Loft conversions are a great way to add valuable living space to your home and significantly boost your property's value.
More than a million homes in the UK now have loft conversions and according to the Royal Institution of Chartered Surveyors (RICS), the average loft conversion costs around a third of the price of moving to a property with an extra room.
Turning your attic into usable space could increase the value of your home by as much as 25% particularly if you're adding an extra bedroom and a bathroom, but one of the first stumbling blocks for many homeowners is whether you have enough room for a staircase.
Building regulations stipulate that if the loft is to be turned into a bedroom, bathroom, study or playroom, it must have a permanent staircase. Thankfully there are plenty of staircase options available to fit whatever space you have, that look great and won't blow your budget.
SpaceSaver Staircases
A SpaceSaver stair goes by a couple of other names – Loft Stairs, Paddle Flights or Alternating Tread Staircases.
This style is largely only used to gain access to a loft conversion or mezzanine and has its own regulations limiting where and when it can be used:
Only used to serve a single room or a single room and an ensuite
Must always have a handrail on at least one side
Cannot be the only staircase in a dwelling and cannot be the only route of access to a 'habitable' room such as the lounge or dining room
The advantage of using this design is that the flight requires far less "going" (the horizontal distance between the face of the first and last risers). This is because part of each tread is cut away, on the left and right sides alternately.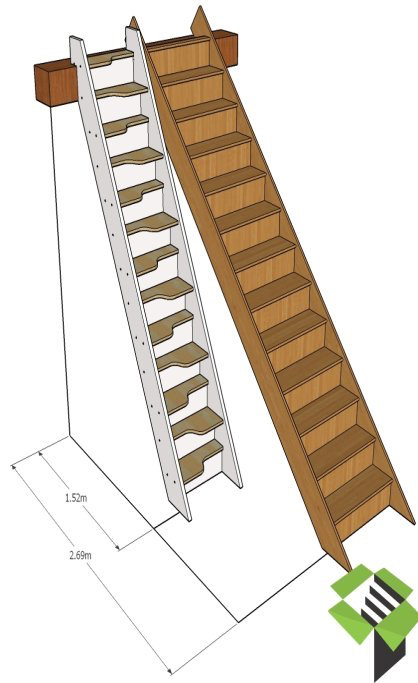 One of the downsides of this design is that you can't turn around mid-flight! We'd always recommend you see whether you could fit a small, normal staircase in that complies with UK regs, but a SpaceSaver flight is a good alternative if the normal staircase wouldn't fit within UK regs.
Check out our Loft Staircase Designer if you're interested in the SpaceSaver option.
Normal staircases
If you'd prefer to have a normal flight of stairs, a typical six winder staircase will fit into an area just under 1.6m x 1.6m.
With this route, you can choose any design style that you want, from budget stairs to a cut string oak and glass staircase.
The world's your oyster and you can browse through some of the options using our StairBuilder tool to see a range of available prices for different configurations.
To help you figure out how much space you have available for your loft stairs and get started, we've put together a step-by-step guide:
Step 1: Measure the floor height
This is the vertical measurement from one floor to the next floor (this is NOT floor to ceiling). Please allow for any floor finishes such as laminated or tiled flooring.
If there isn't a stair opening cut in the ceiling yet, and you don't have a loft hatch it's best to drill a small hole through the ceiling big enough to put your tape measure through. Or if you're at the stage to do so – cut the opening for your stairs!
Step 2: Measure your room
If you're using a box room, measure between the walls that your staircase would rise in. You will find the StairBuilder very useful at this point to figure out what will fit, and where your staircase will start and finish.
Step 3: Use Stairbuilder
Play around with the designs using the measurements you've taken.
Step 4: Check you have headroom
This is a very common problem when ordering a new staircase, in most cases you need 2m headroom – some loft conversions will allow 1.9m clear headroom. You will need to make sure the ceiling can be cut away enough to allow for this. If you are struggling to work this out our StairBuilder has a "headroom" button which will help you, or alternatively give our team a call.
Step 5: Order your stairs
Give our team a call for any advice you need or just order online.
Step 6: Start work
This is the point when your joiner or builder will remove your ceiling, take the joists out and bring your stair trimmer in.
Feel free to give our design team a call on 01782 832555. They'll happily work with you to create a bespoke staircase that suits your requirements and provide you with 2D and 3D drawings. We offer this service completely free and there's no obligation. We pride ourselves on our approachable staff and industry-leading customer service.
Or pop into our showroom. You'll get a warm welcome and a cup of tea, as well as sitting down with our expert design staff to make your staircase concept a reality.