Terms and Conditions
Stairbox Terms and Conditions
In these Terms and Conditions: "We" "Us" and "Our" refers to AVC (StairBox) Ltd, trading under StairBox. The term 'You' "Customer" and "Client" refers to the purchaser of goods, or the user or viewer of our website.
By placing an order you are thereby agreeing to these terms and conditions, a copy of which will be provided with your Invoice.
Pricing and Payment
Unless stated otherwise, all prices quoted for goods are for supply only, ex works, and are ex Vat. We do not offer a fitting service.
Cash or Personal Cheque with Bankers Card, all major Credit/Debit Cards, Bankers Draft or BACS Transfer are all acceptable methods of payment. Our Terms are payment in full at point of order, or deposit at point of order with the balance fully cleared before delivery, by prior agreement.
We reserve the right to terminate any credit agreements following late payment, and shall insist on future cash transactions only. Consequently, all bookings and/or transactions and agreements entered into will cease with immediate effect until such time as any and all outstanding monies are recovered in full.
All goods remain the property of the Company until paid for in full. Monies that remain outstanding by the due date will incur late payment interest at the rate of 2% above the prevailing Bank of England's base rate on the outstanding balance until such time as the balance is paid in full and final settlement. We reserve the right to seek recovery of any monies remaining unpaid sixty days from the date of invoice via collection agencies and/or through the Small Claims Court in the event that the outstanding balance does not exceed £3000. In such circumstances, you shall be liable for any and all additional administrative and/or court costs.
Returned cheques will incur a £25 charge to cover banking fees.
We reserve the right to revise our prices at any time prior to placement of order without notice in line with changes in costs of materials, services or labour, along with fluctuation is currency exchange rates affecting the cost of imported materials. Once an order is placed the price will be fixed as agreed at the time of purchase.
All quotes are valid for 3 months from the date of issue.
How to place an order
Select the item(s) that you require from our website (whether designing a staircase, glass balustrade or using the Parts section on our Website) by clicking the 'Add to Cart' link shown for the item. Items that you have selected can be reviewed at any time via the 'View Basket' link.
When you have completed your selections click on the 'Proceed to Checkout' link to complete your order. You will be asked to provide delivery and payment information via secure web pages. Please review your order carefully before submission to avoid problems. If you make a mistake during ordering please contact us as soon as possible.
If you need to amend your order prior to placing it you may do so on the shopping basket page. You can remove items or amend quantities using the controls provided. You may need to refresh the contents of your basket for changes to take effect. If you really get stuck just call or email us and we can help out.
Making a contract with us
When you place an order with us, you are making an offer to buy goods. We will send you an e-mail to confirm that we have received your order. Once we have checked the price and availability of the goods, we will e-mail you again to confirm that we accept your order.
Availability
All items are subject to availability. In the unlikely event that the goods are no longer available, or that we have made a pricing mistake, we will advise you of this. We will not dispatch the goods, we will refund any payment made, and there will be no contract formed between us.
Unless otherwise stated, the services featured on this website are only available within the United Kingdom, or in relation to postings from the United Kingdom. All advertising is intended solely for the United Kingdom market.
Delivery
We have our own fleet of long wheel base vans. The delivery will be made by one driver only, so you will need to make sure you have sufficient manpower available to move the products you have ordered. There is a two person delivery service available at an additional charge if you are not able to provide one physically able person to assist the driver in offloading your staircase.
All of our deliveries are classed as kerbside only, meaning your goods will be delivered to the nearest safe point on your property. If it is safe and feasible to do so, the driver may be able to assist in transporting the goods to your door, however the driver is ultimately responsible for where they can sensibly and safely offload. Please inform us when ordering if there are likely to be any problems when delivering.
You will be provided with a time window (usually 3 hours) for your delivery, this is our best estimate and we can not take responsibility for delays due to traffic or weather conditions.
It is your responsibility to ensure all materials are on site in good condition and complete prior to commencement of your project. We shall not be liable for any costs due to delays, aborted or additional site labour costs, loss of earnings, or other unforeseeable charges. We therefore advise that you DO NOT organise tradespeople for installation until you are satisfied that all items are on site and in good condition. Any damaged or missing items should be reported within 48hrs of delivery, otherwise they may be chargeable.
For any aborted / failed deliveries on the day of delivery, an additional carriage charge (this may vary dependent on the goods ordered) will be applied for redelivery of the goods.
We can only make deliveries to mainland UK.
When your goods arrive
Unless stated otherwise, the staircase will be supplied "Part Assembled" which denotes that straight runs of usually 2 or more treads will be assembled, with any balustrade and newel posts removed for ease of transportation and fitting. Any turns on the staircase will always be sent loose.
Please make sure that you do not glue the handrail in place until the glass is fitted, when using our Embedded system. The glass cannot be fitted with the handrail glued in place.
Newel Posts will need to be notched over trimmers on site to suit.
Quarter Landings will usually be supplied by Stairbox, and must be adequately supported on the underside during installation. Joists for this purpose are not supplied by Stairbox.
Half Landings are not supplied by Stairbox unless specifically requested, where we supply loose tongue and grooved boards at an additional cost, for site fitting by others. Joists for support are not supplied by Stairbox.
We advise applying a suitable oil / lacquer / varnish / paint finish to the timber as soon as possible after receiving delivery. We do not recommend wet plastering down onto a staircase prior to finishing as this can damage the timber. We will not be liable for any defects due to inappropriate storage, neglect or damage caused by a third party or installation other than that which is recommended in our Fitting Guide.
Cancellation
Both ourselves (within reasonable grounds) and the Client have the right to terminate the contract for any reason. Refunds will be made, less any costs incurred for work already undertaken.
All staircases and/or glass balustrades whether ordered either online via our StairBuilder, GlassBuilder or Loft staircase design programs, over the telephone or in person are made to order and completely bespoke, and therefore are non-refundable. Other items have a minimum 48 hours notice of cancellation required prior to delivery. Notification for instance, in person, via email, or phone will be accepted subject to confirmation in writing. We reserve the right to levy a £60 charge to cover any subsequent administrative expenses.
Returns
We request that you inspect items for damage or missing parts before signing for them. If there is any damage present, we recommend that you refuse delivery. Our dispatch team take great care in getting your order picked and packaged but once it leaves our hands we have no control over its handling by the courier. If your item does arrive damaged please let us know so we can arrange a replacement, as refusal of delivery by the courier will not automatically generate a replacement.
Returns are only able to be made for standard stock items, and not for any bespoke products made to your specification. If there is a problem with the goods or if you wish to return a standard stock item for any reason, please call our team straight away. For any returns, we request that you notify us by email of intention to return the items. You have 60 days after the day of delivery in which to return the goods. You will be issued with a Returns Authorisation Form which we would ask you to print and attached to all packaged items (this way it will enable us to easily identify your items once received back).
Arrangements and costs for the return of goods to our registered office will need to be met by the Client. Should you wish for Stairbox to arrange collection of goods, there will be a charge of £40. Refunds will be issued for any returned parts once inspected and found to be in good resalable condition. If any goods are found to be damaged, we reserve the right to reduce the refund provided, up to the full value of the goods.
Measurements
Where applicable, you will provide us with the necessary site measured sizes required in order to manufacture your staircase. We will issue a working drawing which You will need to confirm your agreement to the commencement of manufacture based on this specification, layout and design.
Need help?
If things aren't quite fitting together as you would expect, just pick up the phone and speak to our team of experts who will be pleased to help you out. Please do not cut or modify any components, as your staircase is CAD designed and manufactured using the latest CNC technology, so it is likely to be an issue that we can resolve over the phone.
Complaints Procedure
If anything is wrong with your order which is our fault, we will do everything in our power to put it right.
In the first instance, please make contact with the dedicated Stairbox Project Manager who has looked after your order. If you placed your order online, you can speak to any of our team over the phone, or you can email our Support Team at support@stairbox.com.
If you are unable to resolve the issue with your Project Manager, you can contact our Support Team at support@stairbox.com who will investigate the matter thoroughly. We will acknowledge receipt of the complaint within three working days. We will aim to provide a resolution as quickly as possible, however at the latest this will be within twenty working days.
Quality
The quality of finish will be consistent with industry recognised standards in the trade.
We use engineered timber to improve the product, which is made up of smaller sections and lengths laminated together. Not only does this provide a more stable product which is far less likely to twist, split or warp, it is also more environmentally sustainable.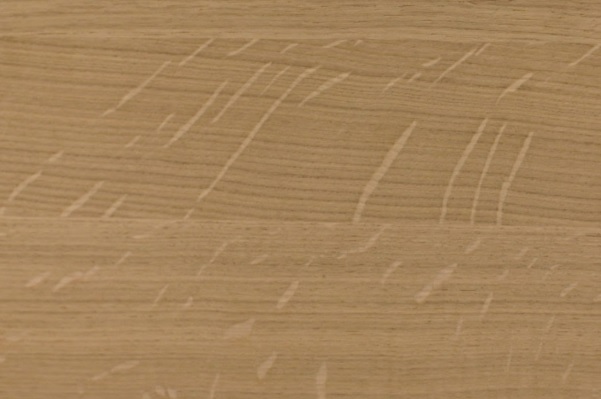 Medullary Rays can be seen on the above example of an Engineered Oak board used for Treads and Strings
The finished goods may vary in shade and grain as timber is a natural material. Naturally occurring features from the tree's growing process may also be present, such as knots and Medullary Rays, which add to the timber's beauty.
Medullary Rays run perpendicular to the annual growth rings and carry sap towards the pith (centre) of the tree.
Far from being defects, these "Tiger Stripes", as they are sometimes known, are a sought after characteristic when selecting stock for furniture making, and show that the timber has been taken from the most expensive "Quarter Sawn" cut, which is far greater in strength and is of the highest quality.
While we do our best to ensure that the product is as consistent as possible, we cannot offer any guarantee on colour match. Images on our website, brochure and other promotional material are for illustrative purposes only.
Any damage or missing parts should be reported within 48hrs of delivery, otherwise they may be chargeable. We will not be liable for any defects due to inappropriate storage, neglect, damage caused by a third party or installation other than that which is recommended in our Fitting Guide.
All external strings are assumed to be against walls unless shown with balustrade. If this is not the case, please make us aware so that we can select the best timber for your requirements and ensure that the product is finished accordingly.
We reserve the right to change the specification of goods without prior notice, in order to continually improve the product that we offer.
Using the StairBuilder Design Tool
All staircases are manufactured to the sizes you provided. By placing an order using our StairBuilder tool we can accept no responsibility for inaccuracies in sizes provided by you, the customer. If you are struggling we strongly suggest calling us for help and advice.
Flights may swell and spread by up to 10mm.
All dimensions are shown in plan view, with tread 1 being at the bottom.
Width is measured over strings and does not include the newel post.
All dimensions and details our the drawing must be checked on site prior to confirming order.
The handing of the flight will be made as per our drawing, unless stated otherwise.
Headroom must be checked on site to ensure that you have a clear 2000mm. If you are struggling to calculate this please give us a call and we will be happy to help. We'll also make sure you don't have any issues with finger traps.
We recommend that our products are fitting by an experienced qualified professional.
Please make sure that you do not glue the handrail in place until the glass is fitted, when using our Embedded system. The glass cannot be fitted with the handrail glued in place.
Using the GlassBuilder Design Tool
All glass is cut exactly to the sizes you provided. By placing an order using our GlassBuilder tool we can accept no responsibility for inaccuracies in sizes or angles provided by you, the customer. We accept no responsibilities for angles taken using the smart phone angle finder, which should be used for guidance only. It is your responsibility to check the accuracy of the angles given. If you are struggling we strongly suggest calling us for help and advice.
Please make sure that you do not glue the handrail in place until the glass is fitted, when using our Embedded system. The glass cannot be fitted with the handrail glued in place.
Website Usage
Redistribution or republication of any part of this site or its content is prohibited, including such by framing or other similar or any other means, without the express written consent of the Company. The Company does not warrant that the service from this site will be uninterrupted, timely or error free, although it is provided to the best ability.
The information on this website is provided on an "as is" basis. To the fullest extent permitted by law, this Company:
Using information from this website is at your own risk, and it shall be your responsibility to ensure that any products or information available through this website meet your specific requirements.
The content on this website is owned by us. This includes, but is not limited to, the design, layout, look, appearance, graphics, software (StairBuilder), and content. Reproduction is strictly prohibited. Unauthorised use or reproduction of this website may give to a claim for damages and/or be a criminal offence.