When it comes to interior design, staircases often play a more significant role than we might initially think. These architectural elements not only serve as functional connections between different levels of a home but also have the power to elevate the overall aesthetic appeal and style of a space. Whether you have a traditional cottage, a modern abode or anything in between, the staircase is an opportunity to make a statement.
In this blog post we'll explore a variety of inspiring staircase ideas to help spark your imagination. From subtle designs that blend seamlessly with the surrounding décor to eye-catching installations that become the focal point of a room, take a look at how our customers have designed and finished their staircases, adding their own personal touch.
Get inspired by our beautiful and innovative staircase ideas:
1: Combine oak, glass and metal
If you're searching for materials that are classic yet contemporary then oak, glass, and metal are great choices. A glass balustrade maintains a light and airy feel and allows light to travel through to different spaces, whilst oak has that timeless quality. The introduction of chrome via riser bars and clamps, as shown in this open plan staircase, add a point of difference.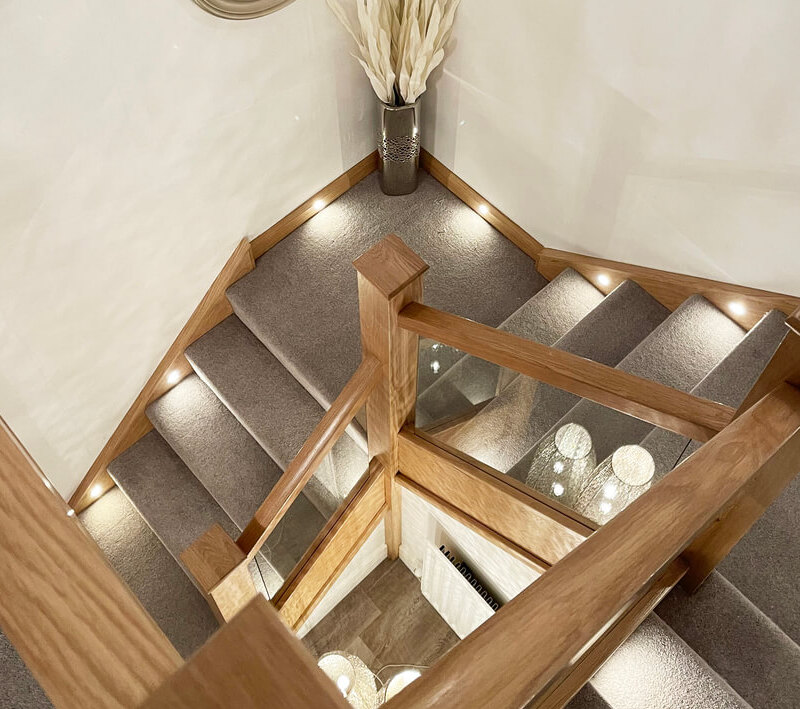 2: Light it up
Adding lighting to a staircase is an excellent way to enhance the overall look and feel of your home. Not only does it provide an element of safety by illuminating the steps, but it also brings an instant touch of elegance and sophistication to your interior design. This staircase with oak and embedded glass balustrade is elevated by the customer's lighting installation.
3: Make the underside of your stairs a feature
Making the underside of your stairs a feature is the perfect staircase idea to add character and uniqueness to your home. Often overlooked and underutilised, the space beneath a staircase can be transformed into a functional and stylish addition to your living space.
Here, the go-to plaster and paint has been swapped out for wooden slat wall cladding - a modern take on a style stemming from the 70s, creating a beautiful but affordable feature.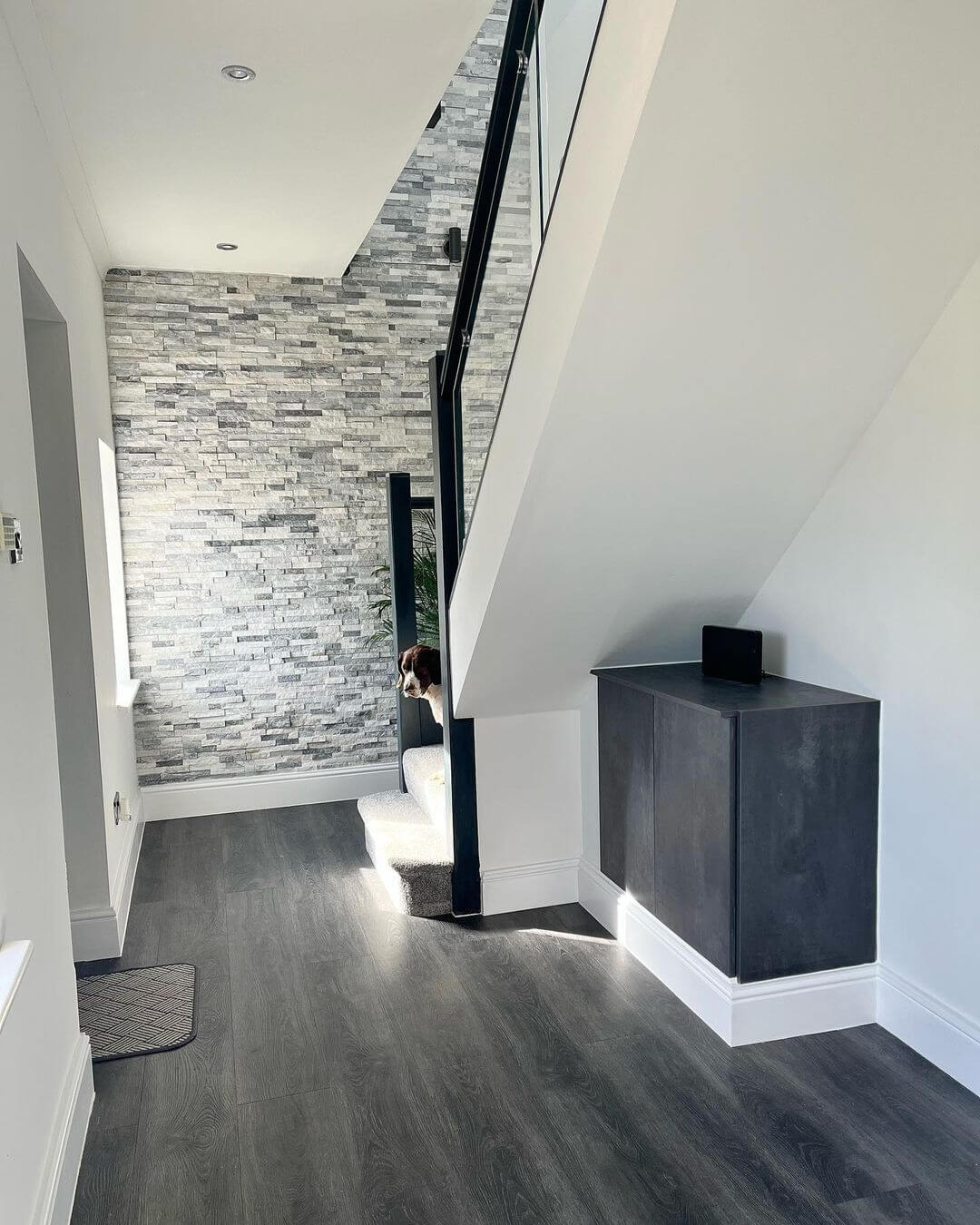 4: Add interest with texture
If you're looking to add a modern touch to your stairwell, consider creating visual interest on the walls that runs alongside it. This customer used textured tiles in grey tones to complement their monochrome scheme, but a wall mural or timber cladding are also fantastic ways of breaking up long expanses of plaster and creating a transition from hallway to landing. Plus there's an option to suit every budget.
5: Give an old staircase a facelift
Renovating an existing staircase is a sustainable and budget-friendly solution to transform the look and feel of your hallway or stairwell. Whilst it may look like a new flight, this is actually an original staircase with our oak tread and riser cladding kit fitted, and a stair runner added as the finishing touch.
Stair runners have made a strong comeback, with lots of modern variations on the classic stair covering. They offer the chance to create a bespoke feel; you might consider choosing a unique pattern or bold colour for your runner.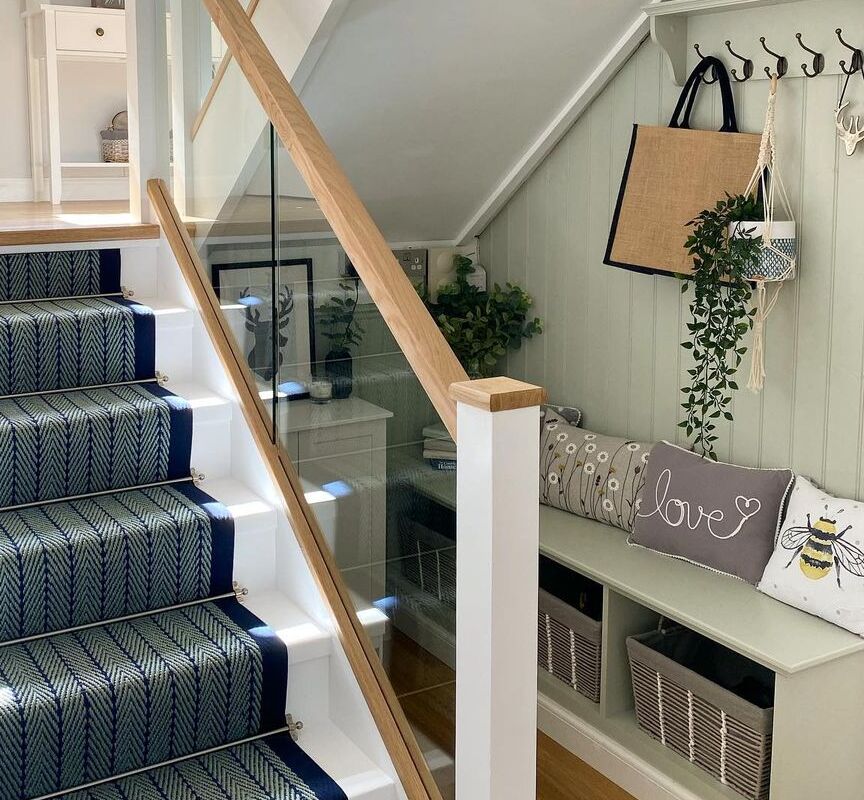 6: Create an understairs seating area
If your staircase configuration allows for it, it's a great idea to take advantage of the space underneath your stairs by installing a seating area, which could also be designed to incorporate understairs storage. This staircase idea is not only practical but could also be an opportunity to create a fun space in your home.
This customer renovated their existing staircase by installing an oak and embedded glass balustrade, which completely opened up the area under the stairs.
7: Add drama with a bold colour choice
Do you dare to be bold with a dark staircase? Black, dark grey and deep navy can add a touch of sophistication and drama to a staircase. If you're hesitant to embrace "colour drenching" - where every aspect is painted the same shade - you could instead ease yourself in by painting some elements (for example, the strings) dark but sticking with an oak hand rail.
Here, the staircase is painted softwood, which is a more affordable alternative to oak but still provides a luxurious feel when painted black and combined with a glass balustrade.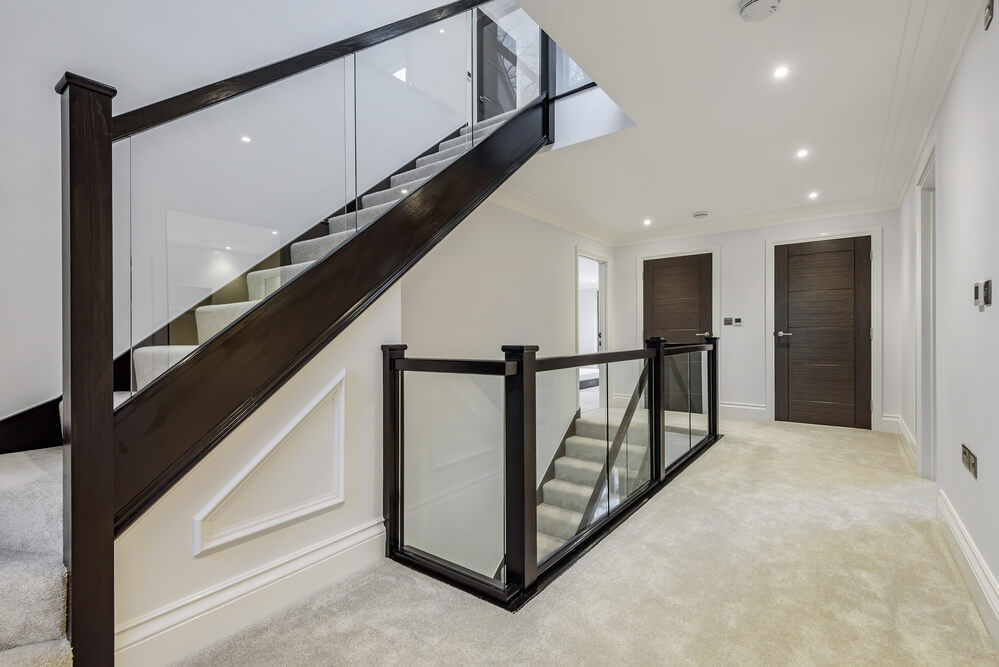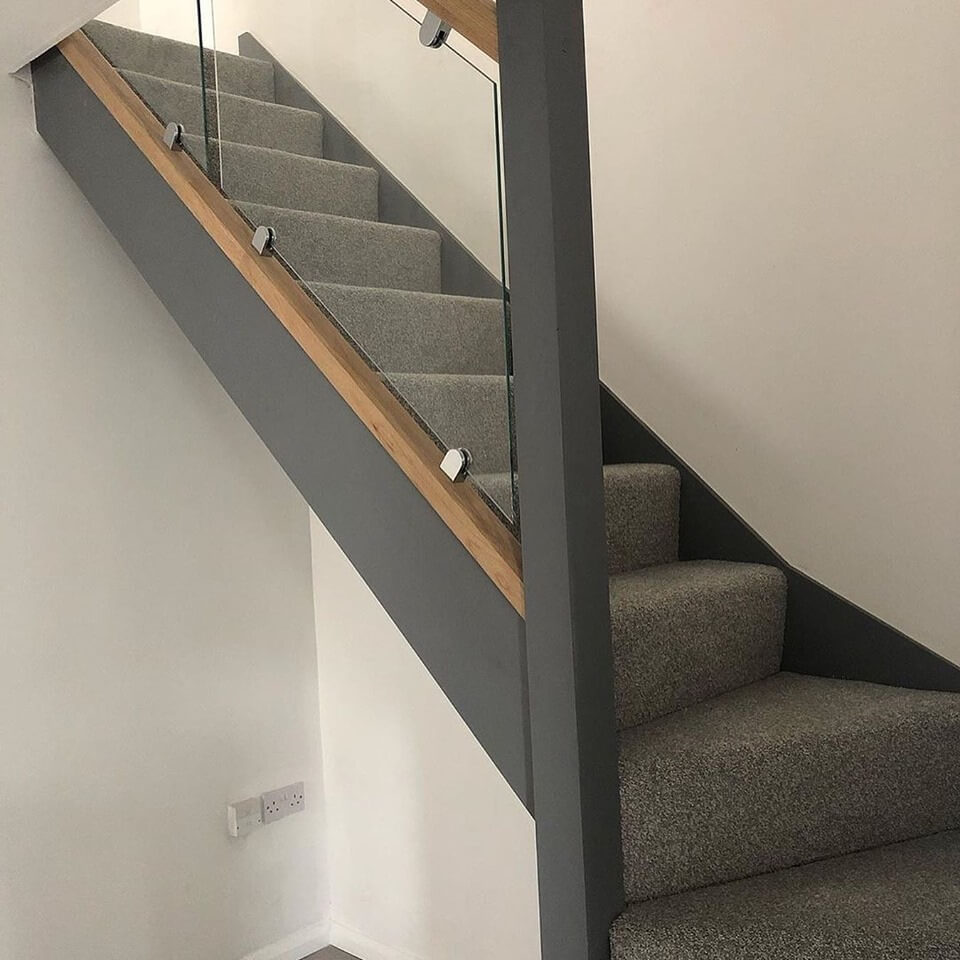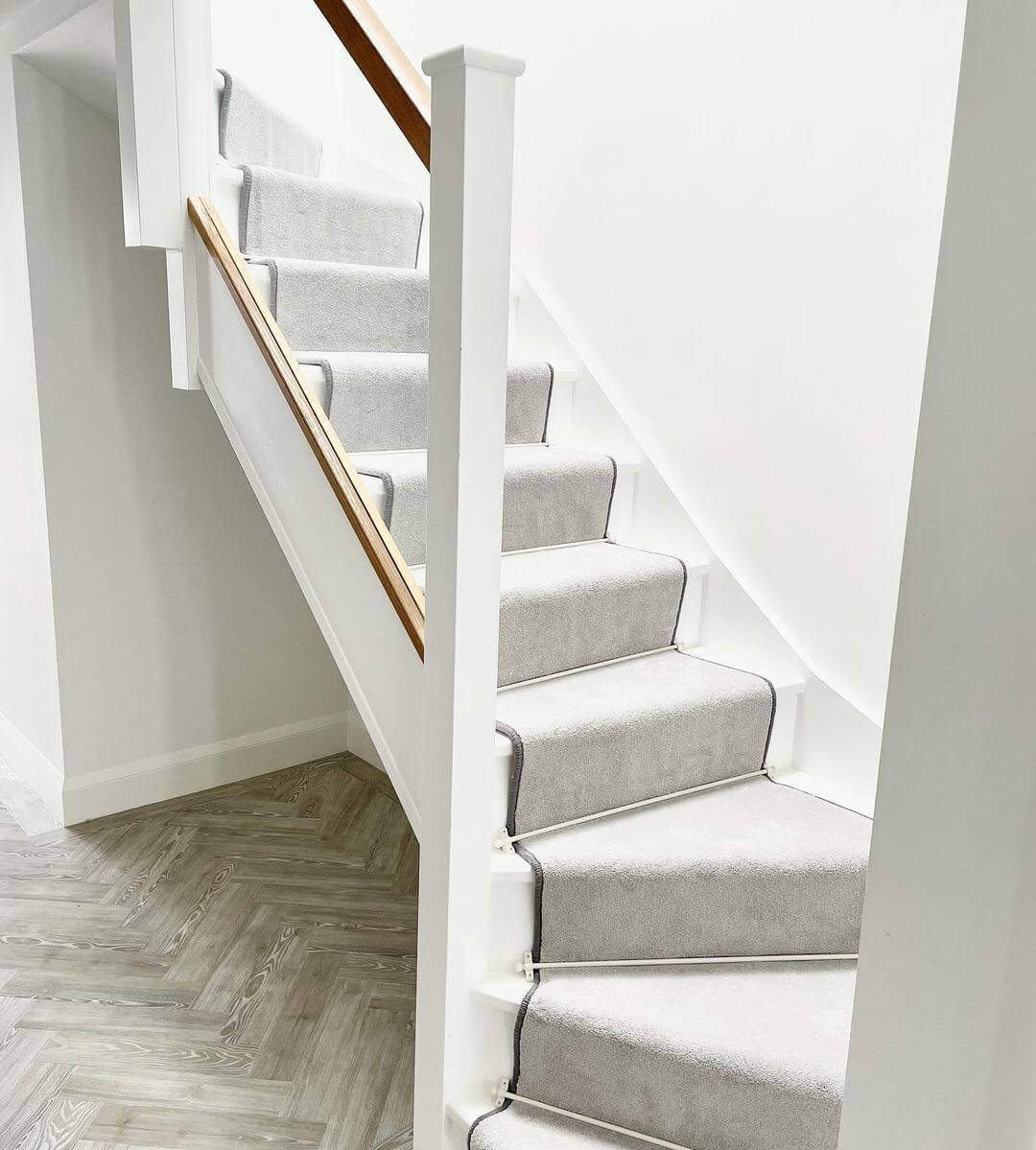 8: ...or keep it light and airy
Combining a white painted staircase with glass panels not only creates a bigger feeling space but also achieves a light, bright aesthetic. The combination of glass and paint colour allows light to bounce around the space resulting in a hallway that is well-lit and airy, with plenty of natural light flowing in.
Here, oak hand and base rails were added to the design to add warmth to the space and elevate the overall look.
9: Add finesse with panelling
Wall panelling is more popular than ever, and this customer has used the trend to great effect in their staircase design. Adding panelling up the stairs has turned a relatively low-cost softwood staircase with square spindles into a real feature, in keeping with the traditional style of the room. The oak handrail and feature step also add those extra details that elevate the design.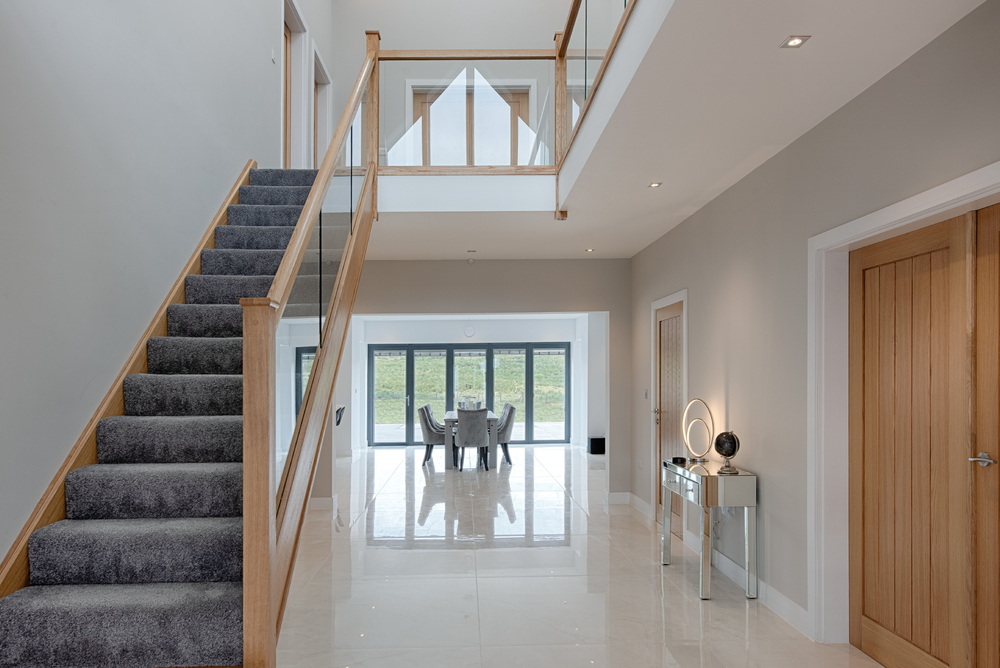 10: Finish with a cosy carpet
If you're considering new staircase ideas, a crucial decision is whether to opt for carpeted stairs or exposed timber. While wooden stairs can look beautiful, carpeting provides a warm and cosy feel underfoot. In this minimal, modern space, the soft carpet looks so inviting!
With countless carpet options available, be sure to choose a durable option that can withstand heavy foot traffic while also adding to the overall aesthetic of your staircase.
11: Let the light in
Thinking about the part light will play in your staircase idea is important, particularly in smaller spaces. Glass balustrades let light pass through and provide unobstructed views through your home, creating the illusion of more space.
Glass and timber complement each other beautifully; this open plan staircase with embedded glass balustrade combines clean lines with the natural beauty and neutral tones of the oak - the perfect balance of contemporary and traditional.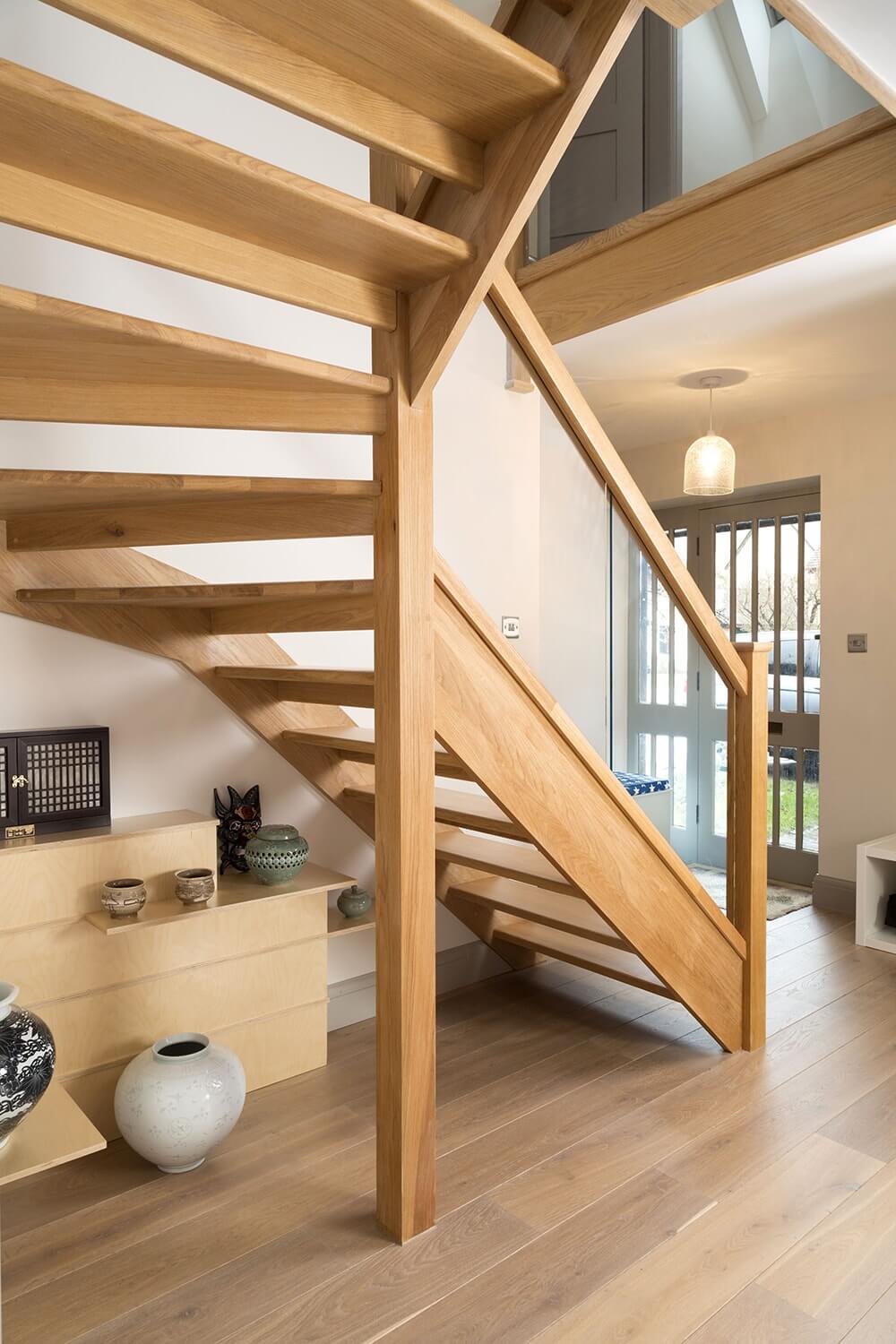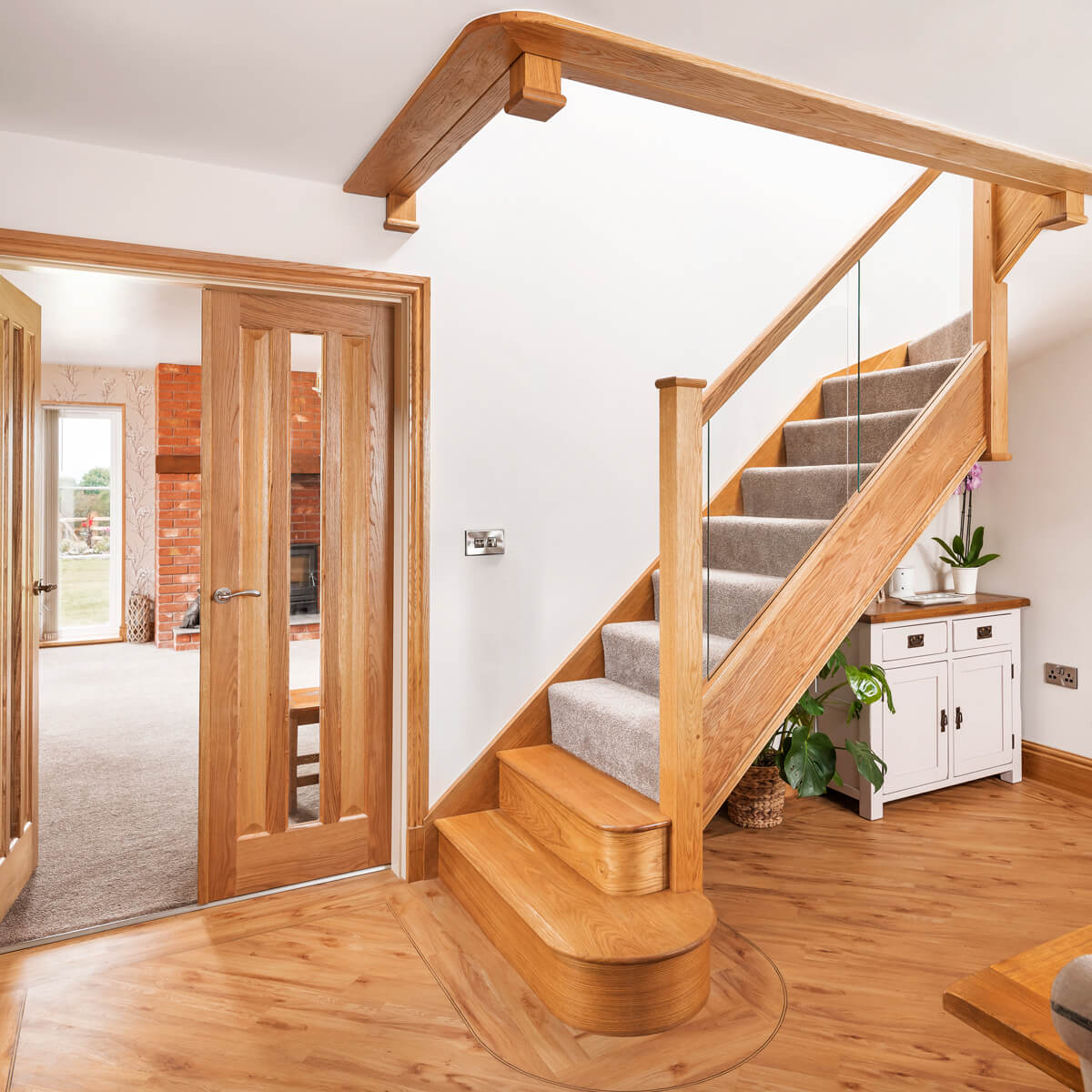 12: Make a flooring feature
When considering staircase ideas, it's important to think about creating a seamless flow through your house, whatever your interior style. This customer incorporated the oak feature step of his staircase into the flooring design at the foot of the stairs, ensuring the two elements feel cohesive rather than divided.
13: Go industrial with metal spindles
With period or character properties, incorporating materials used in your home's original construction is a sure-fire way of achieving an authentic interior style that feels right. Take this luxury barn conversion where the staircase design was carefully considered; the customer purchased an oak staircase and balustrade parts from StairBox and sourced their own steel spindles, resulting in a striking focal point in the double-height space.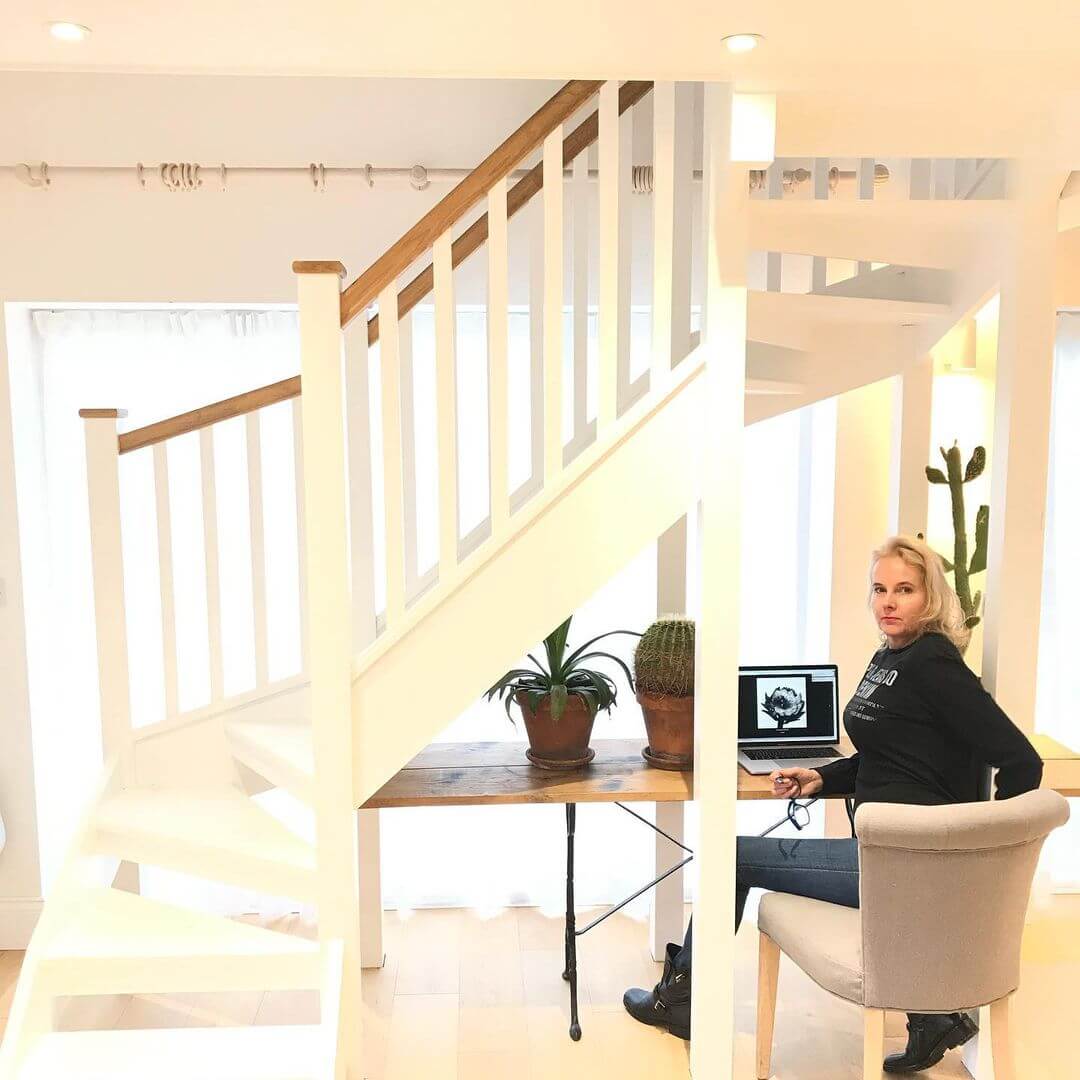 14: Set up an office
Maximising every inch of space in our homes is becoming more and more important. With many of us working from home, the unused area under the stairs can offer a wealth of possibilities. You can transform it into a functional desk workspace, or incorporate storage solutions for documents, books and even printers.
Choosing simple square spindles for this open plan staircase – and opting for a white painted finish – means the staircase doesn't look overly imposing and obstruct the room.
15: Keep it classic
It's true that sometimes less is more; sticking to a simple approach can really draw out elegant details within your home and create a staircase design that will stand the test of time.
This pared-back white staircase uses sophisticated stop-chamfered spindles in a classic cut-string design. The flight has added interest with the black detailing from the handrail and stair runner border drawing the eye up the staircase.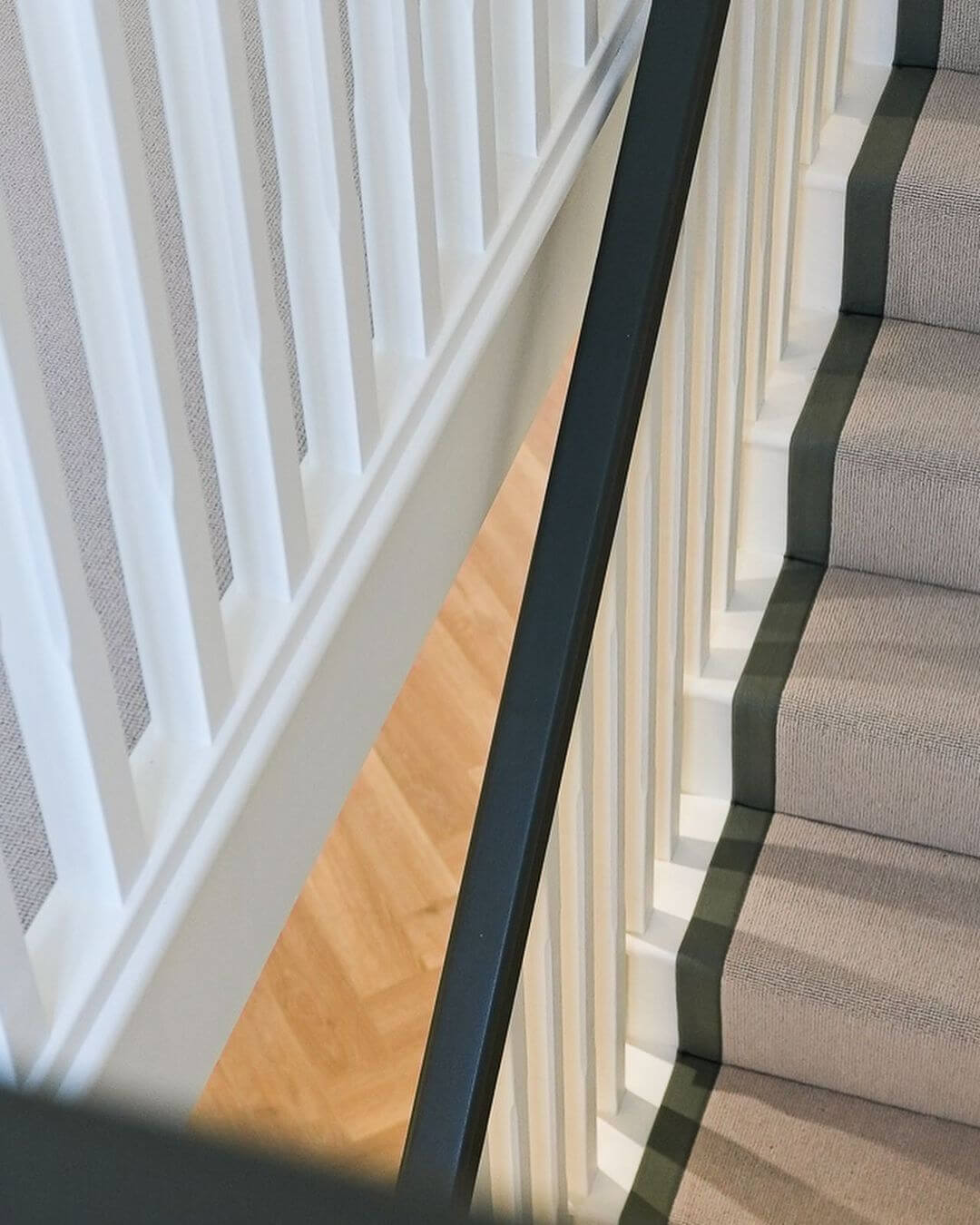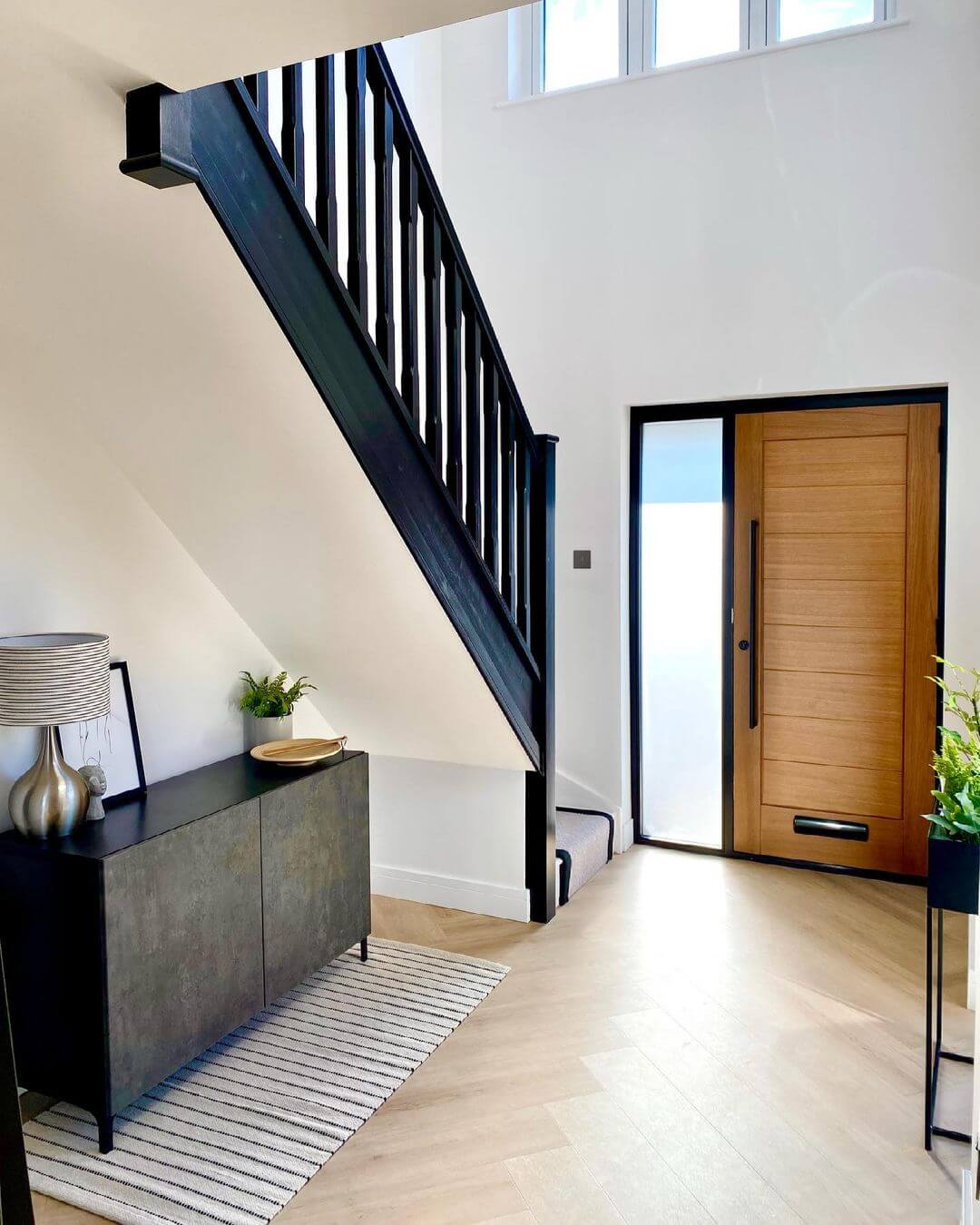 16: Create contrast
Using colour to contrast your staircase against the rest of the room is the perfect way to make a statement. Here, the black balustrade contrasts with the crisp, white, open hallway space making a real architectural feature of the staircase, whilst also picking out other black accents in the room.
17: Install a lighting centrepiece
To create a feature in your stairway, consider adding a contemporary light fitting that catches the eye. At the centre of this oak and embedded glass winder staircase is modern chandelier which draws attention up through the space. The elegant raindrop effect of the staggered suspended pendants gives a stylish touch without being too overpowering.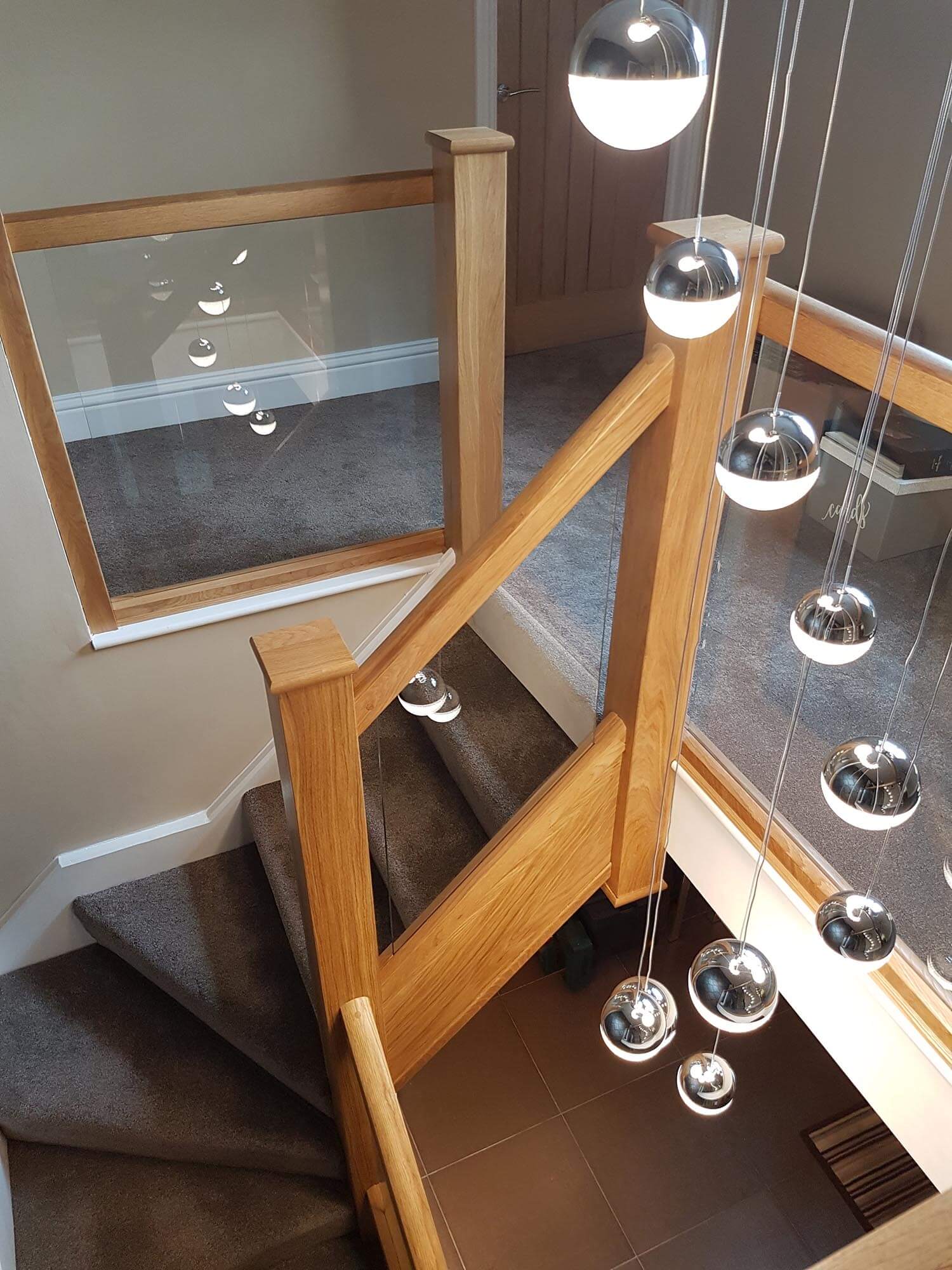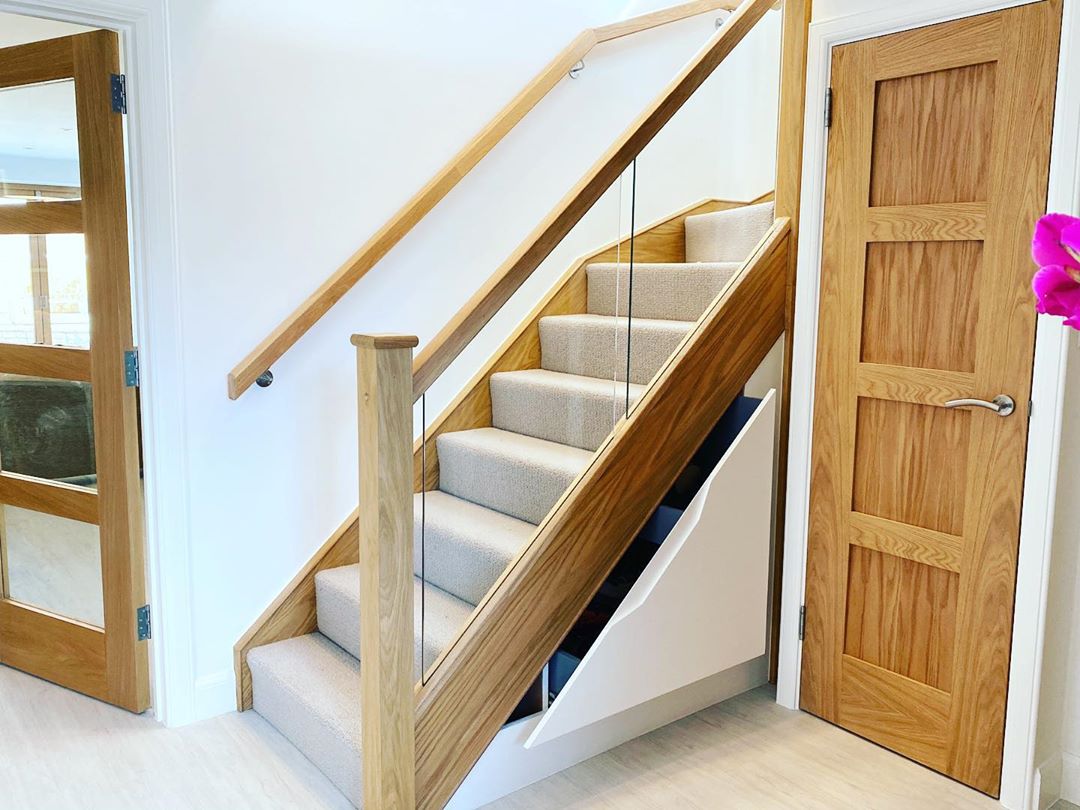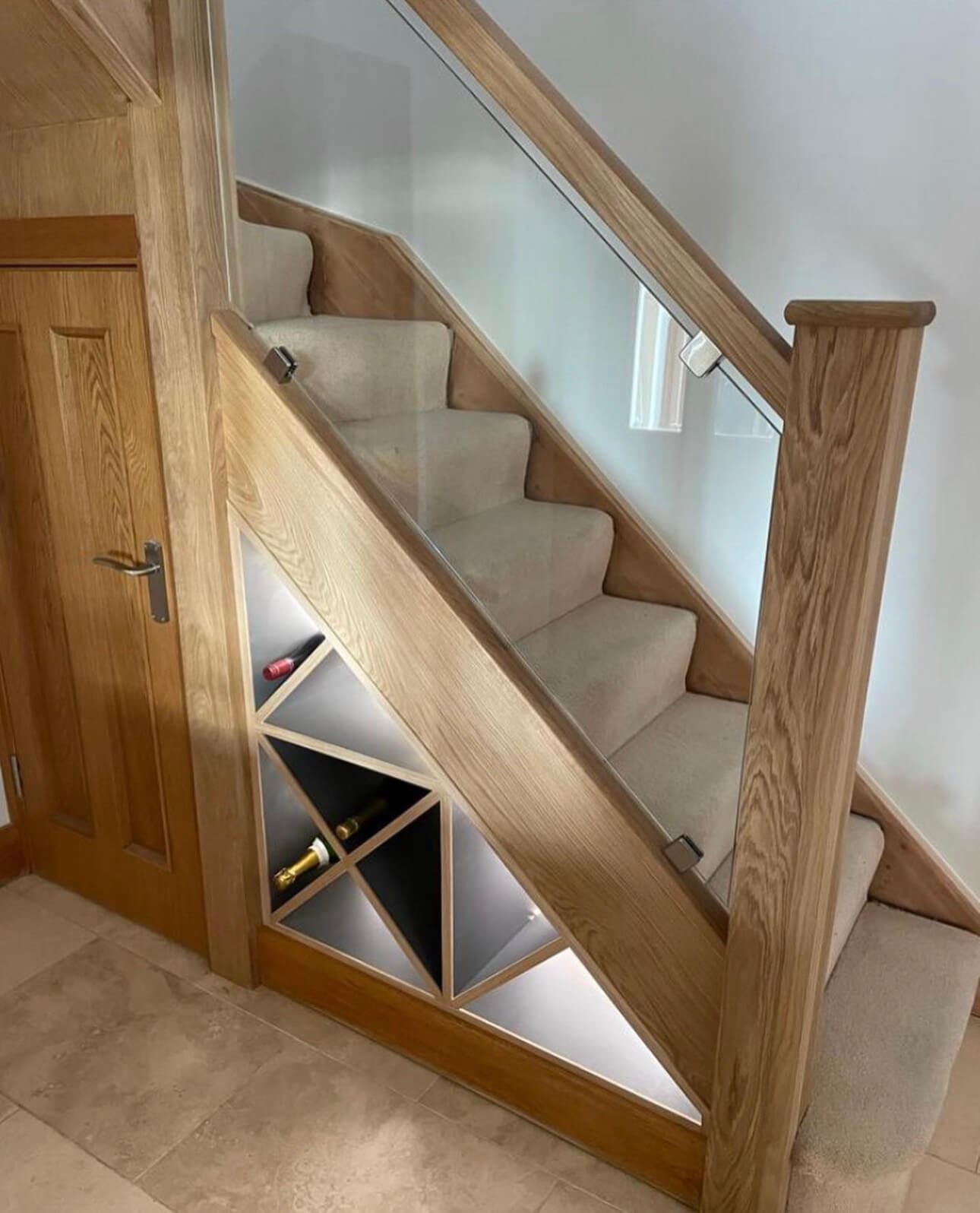 18: Make the most of every inch with bespoke storage
To create a feature in your stairway, consider adding a contemporary light fitting that catches the eye. At the centre of this oak and embedded glass winder staircase is modern chandelier which draws attention up through the space.
The elegant raindrop effect of the staggered suspended pendants gives a stylish touch without being too overpowering.
19: Opt for T-shaped in a large open space
With more open space, you have the opportunity to be a little more daring with your staircase ideas, resulting in an elegant focal point for your home. T-shaped stairs, which bifurcate or branch off in opposite directions, can make your hallway a "wow" moment, especially when the crescendo is a gallery landing.
This solid oak staircase is incredibly grand with its T-shape design and large feature steps, but ties in perfectly with the décor of this spacious hallway.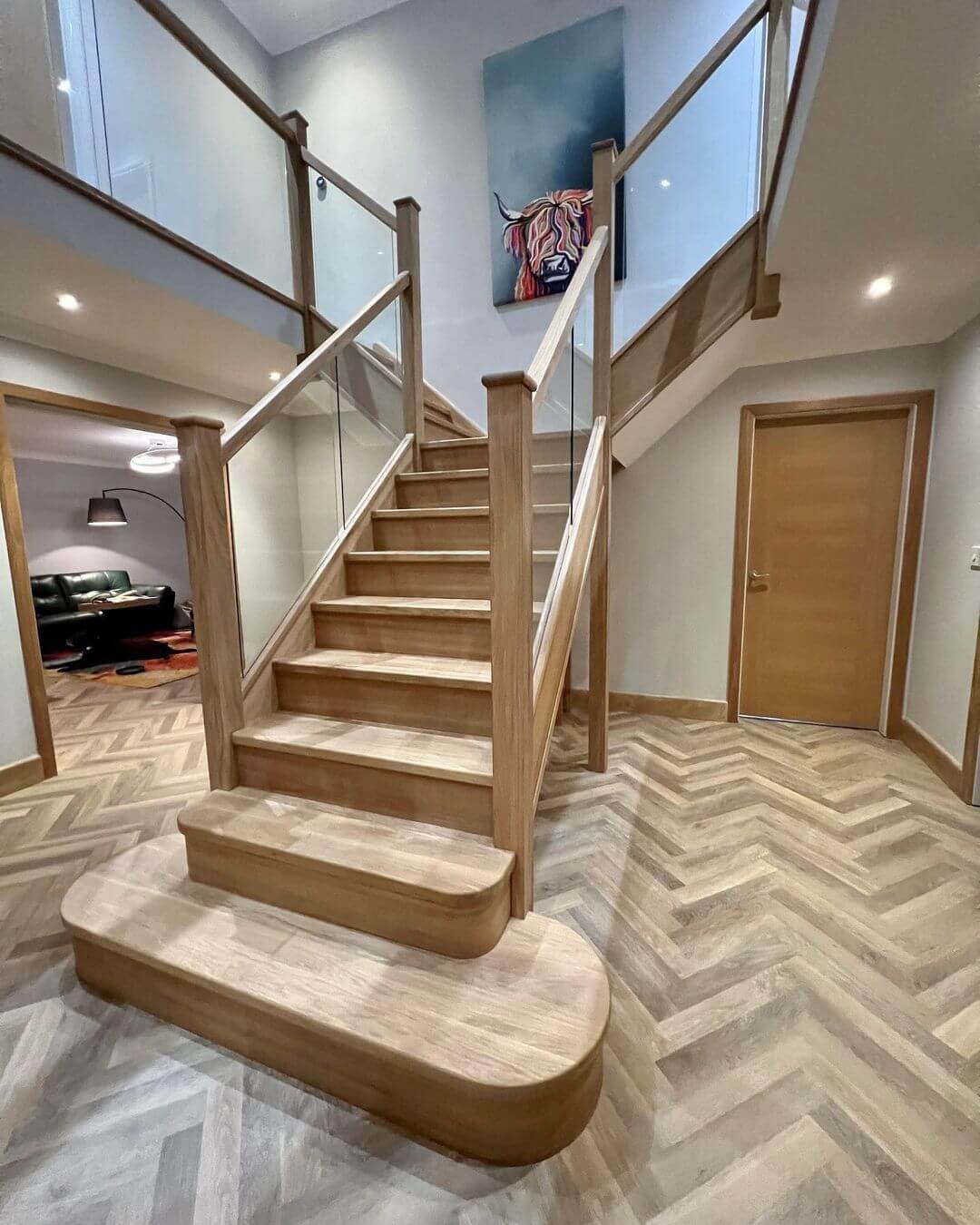 20: Add a pop of colour
Staircases are often located near the front entrance of a home, making them the perfect opportunity to make a strong design statement. By selecting a unique finish or design for your staircase, you can create an immediate and lasting impression on guests.
This eye-catching pink staircase is a great example of how a thoughtful design choice can make a big impact on your home's overall aesthetic and create an unexpected talking point.
We hope our staircase ideas have filled you with inspiration and proven that even the most affordable staircase options have the potential to become a stunning feature in your home.
You can find more completed staircase projects on our Gallery page.