Contemporary and eye catching, an open plan staircase makes a design statement and looks great from every angle. If you want to open up a space this type of staircase is for you. Coupled with a glass balustrade, open plan stairs allow light to pass through, making the areas around them feel bright, spacious and free flowing.
What is an open plan staircase?
So what makes an open plan staircase? Rather than having a riser that bridges the full gap between treads (like the traditional staircase shown below), there is instead a gap in the rise. Regulations state that this gap can not be 100mm or greater for safety, so a small 'half riser' ensures that the gap is not too big whilst allowing the maximum amount of light through – one of the main benefits of open plan flights.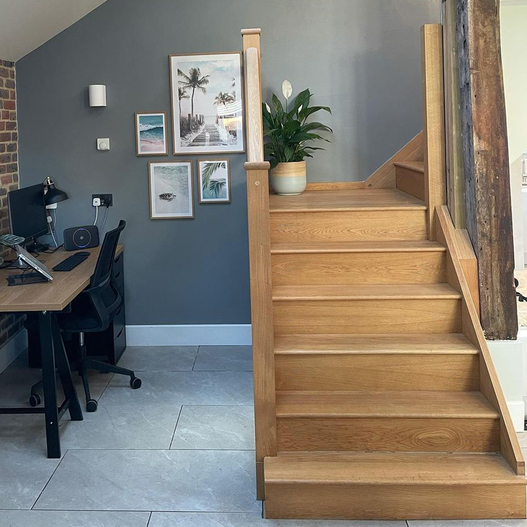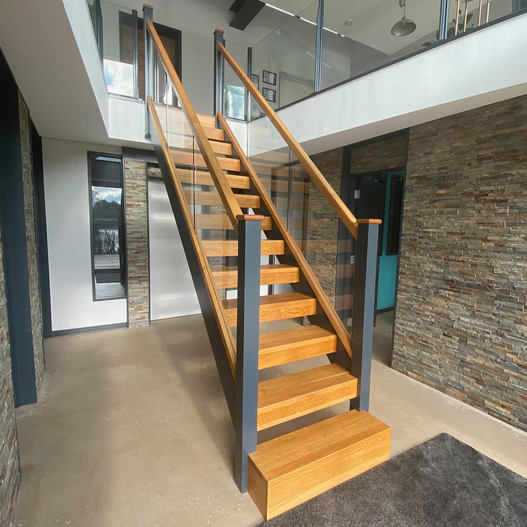 Riser options
There are a couple of options when it comes to the half risers:
In the below photo, the staircase has flush half risers – the tread and riser meet with a sharp, clean edge which gives the impression of a solid, chunky step:
Whereas with the next staircase, the treads have a nosing which overhangs the half riser. This is a more traditional construction and can make the half risers appear more elegant: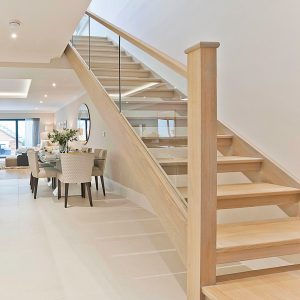 Purely aesthetic, which style you go for is completely down to your personal preference! You can select and view both options in our online StairBuilder to see which style you prefer.
---
Open plan staircases are a popular choice, especially with more and more people adopting open-plan layouts for their homes and living spaces. Click here to read about our customer Simon Williams' own open plan staircase and the difference it's made to his home.
For more open plan staircase inspiration, head to our gallery.