Staircase Arrival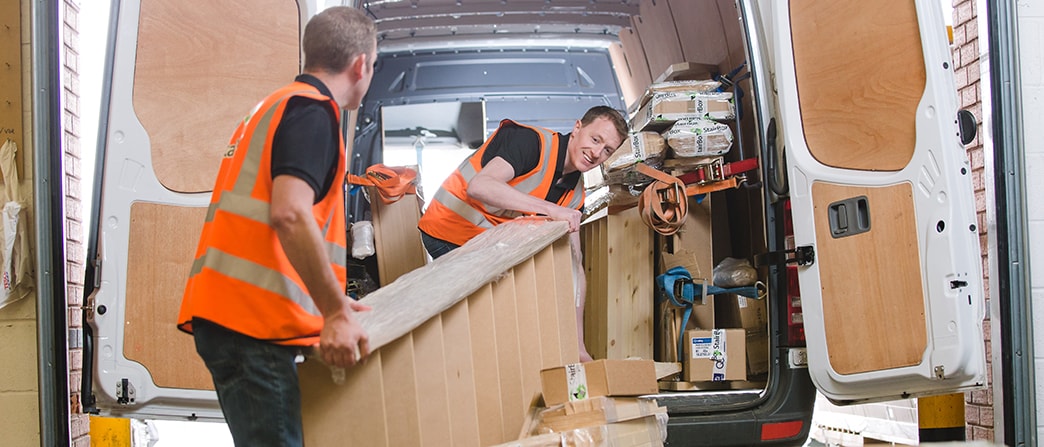 How will my staircase arrive?
At StairBox we take as much of the hassle out of the process as possible without getting in your way.
Everything on the staircase will come ready cut and trenched, all you will need to do is assemble the components. Everything will be supplied ready to fit with all the parts required not matter whether you have ordered your staircase through our Online StairBuilder or over the phone with our stair design team.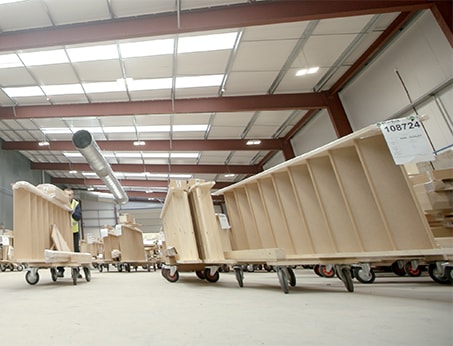 Stair carcass
When placing your order, you can opt for the staircase to arrive pre-assembled or in kit form. We always recommend having it pre-assembled, unless you are restricted for space getting it on to site.
Kit form
If you don't have great access in your property we would suggest purchasing your staircase in kit form. The last thing that we would want is for you to purchase a lovely new staircase from us and then not be able to get it into the house! If you choose this option your treads, risers and strings would still come to you ready cut and trenched with all required parts, it's just that it will take a little longer to erect on site. Strings will come with bolt holes already drilled and bolts already inserted, everything in place to be fixed into the newels.
If you're worried about the work involved when the staircase gets to you, have a browse of our fitting guide. Here we go through everything that you'll need to do to get your staircase in place. If you have any specific questions, just get in touch.
Pre-assembled
If you have sufficient access we would always suggest that you purchase your flight pre-assembled at no extra cost. This means that the main straight runs of the flight will come to you already assembled; treads, risers and strings. The only part of the basic staircase carcass that wouldn't come assembled would be any turns. As we would be assembling the basic flight you can rest safe in the knowledge that the element assembled here will be done to the highest quality. Strings will come with bolt holes ready drilled and bolts already inserted, everything in place to be fixed into the newels.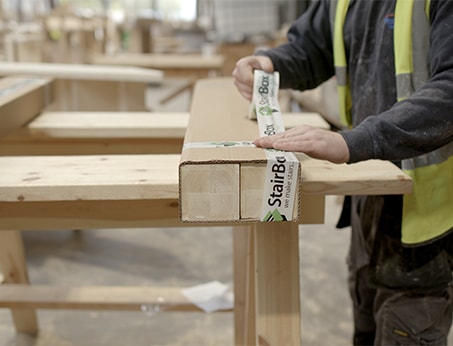 Balustrade
The remaining components for your staircase and balustrade will arrive ready for assembly on site.
Newel posts
Newels will come at the correct length, with all trenching and drilling already completed ready to accept any treads, risers, strings and handrails. We will have also determined which newels need to go to ground and designed the flight with this in mind, should you need any further newels to go to ground please contact us and we will happily look into this for you. If you have ordered any landing newel posts these will not be touched and will be 1.5m length, if you need anything different, let us know.
Handrails and baserails
As we know the exact dimensions and pitch of your staircase we would cut your handrail to the exact lengths and angles required. Your handrails will even be ready drilled and contain the bolts making the attachment to the newel even simpler on site. Landing handrail will be sent to the length requested, but beyond that we would not touch your landing balustrade. This is largely because there are so many options on site for your landing balustrade that can easily need a tweak or change when other items are in place.
Spindles
We will cut your spindles to angle and length required for your staircase at this end, as such you would simply need to pop them into place on site, no time-consuming sawing required on site! We would also work out the exact number of spindles required, so no guessing required. If you have ordered a length of landing balustrade on our StairBuilder, we would send you the appropriate number of spindles for the length of balustrade requested. Again, these would have no work done to them, but as they are for your landing they shouldn't need any.
Delivery of your staircase
Delivery of your staircase can be in as little as 7-10 working days, however this can increase a little during busy periods. Once you have placed your order with us, we will contact you to arrange delivery or collection from our Trade Counter.
Our delivery service is available throughout the UK - we use our own delivery drivers and manage our own transport to ensure your products arrive on time in perfect condition.
Read More