Choosing a Balustrade
Staircase and landing balustrades are available to purchase with or without a staircase and there are many different styles to choose from. There are a few regulations which dictate where a balustrade is required on a staircase; a lot of these are fairly obvious, however there are a couple of elements to consider when choosing your balustrade.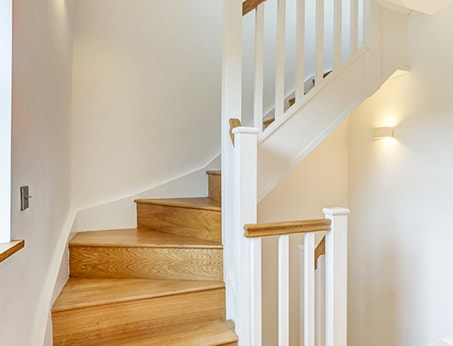 Balustrade and wall rail regulations
Please note that the below is true for domestic flights, please contact us should you need any assistance with commercial flights as the regulations concerning them can be a little more complex.
Height matters
The height of the balustrade must be between 900mm and 1000mm from the pitch line (nosing to nosing).
100mm sphere
On any part of a staircase there can be no gap "through which a 100mm sphere could pass". The thought being that 100mm is about the size of a baby's head. This restriction helps eliminate any potential hazards in the staircase. This rule also holds true for balustrades, and as such the gap between your spindles cannot be any larger than 99mm.
The 600mm rule
If at any point you are 600mm or higher from off the ground you should have a balustrade. As a general rule we aim for anything higher than two rises. For example, you do not need balustrade on a curtail and bullnose but anything above this would require you to choose your balustrade.
Width also matters
If you have a staircase with a width of greater than 1000mm, you would need to have a handrail on both sides. For anything less than that, only one side will suffice.
SpaceSaver staircases are special
SpaceSaver staircases are a little different in that they always need to have handrails on both sides. This is partially due to the unfamiliar nature of the alternating treads and their steeper angle.
Select a balustrade to suit your style
There are several combinations of styles and material available when designing your balustrade online with our StairBuilder. Below is an example of each.
Square spindles
This is an option that has recently returned to popularity due to its simple nature. There is nothing fancy, literally a 41x41mm square. This is also the most economical option available.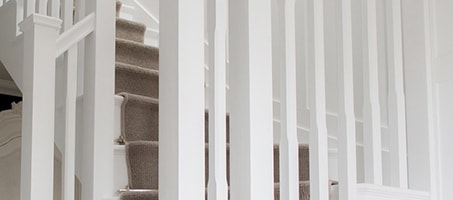 Stop chamfered spindles
Take a square spindle, chamfer the edges of a central portion and you get a stop chamfered spindle. Again, nothing extravagant however this extremely popular choice is often our best seller thanks to its simple angular design that happily compliments a modern aesthetic.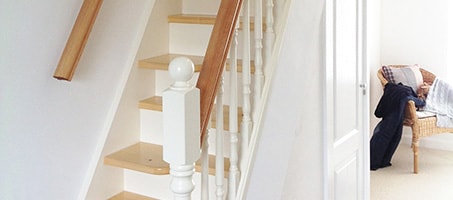 Turned spindles
Our standard turned option is what is known as an Edwardian style, very much a traditional option that has proven itself timeless.
Glass
Sleek, modern and creates the feeling of a far more 'open' household, glass has taken the staircase industry by storm over the last few years. Rather than the 5mm required by Regulations, we prefer to use a more substantial 8mm toughened glass. We offer two styles on our StairBuilder: Clamped in which the glass sits in clamps that sit proud of both the handrail and baserail, adding a touch of chrome to your new staircase or Embedded in which your glass will sit in a channel in both the handrail and baserail, from a distance giving the impression of a floating handrail.
Discover more
These are the main options available on our StairBuilder. If you are looking for something a little different, why not take a look at our Stair Parts Shop. We stock a range of parts for new staircases and renovation projects.