How do you keep the natural beauty of your wooden staircase, years after installation?
StairBox x Treatex
---
The colours, patterns and texture of wood are perfect examples of Mother Nature's details at their finest.
The warmth in the colour of timber, along with its unique characteristics are some of the main reasons that people choose to incorporate wooden items in their homes. From flooring to furniture, there are many ways to introduce this natural material into your décor, but – you may have guessed it – our favourite way to incorporate it is in the form of a beautiful wooden staircase.
Here at StairBox, we've been in the joinery trade for over 100 years, so we understand how to truly get the best out of this versatile material. As wood is a natural product, there can be a level of maintenance involved to keep it looking as good as the day you bought it. However, the information below should help make the process quick and straightforward, and the end results are definitely worth the small effort required!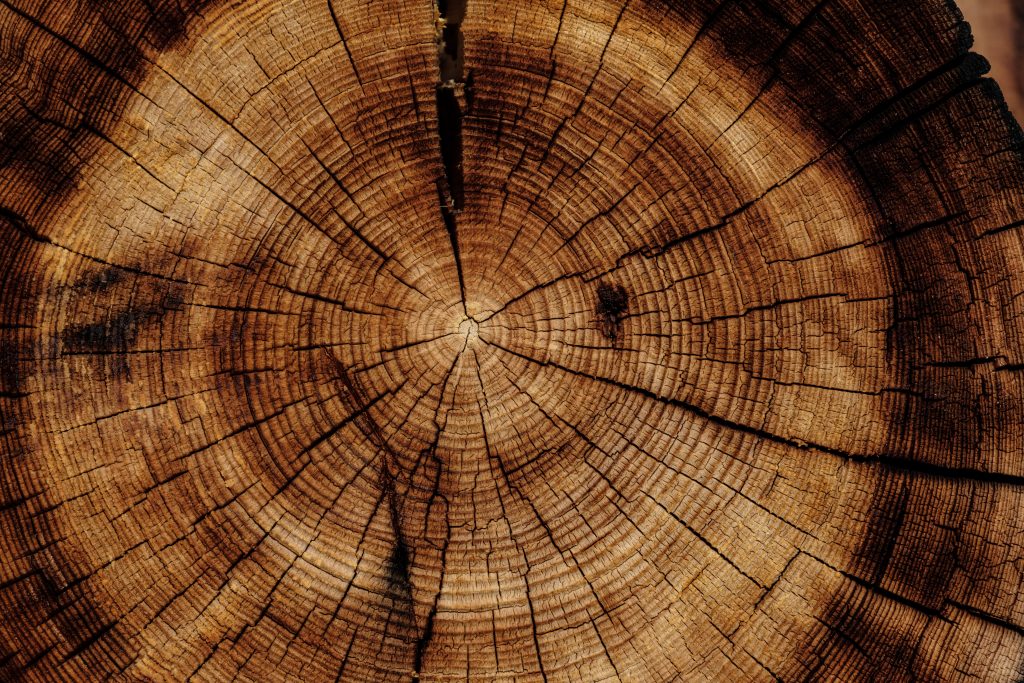 ---
Why is it important to treat your wooden staircase?
Our oak staircases look their best when they have been treated with a hardwax oil. We recommend using Treatex Hardwax Oil Ultra to enhance and protect the natural beauty of the wood.
Treatex Hardwax Oil Ultra leaves a dry, water resistant and tough finish that will protect and enhance the natural beauty of the wood. Using a product like this helps replenish the oils that are naturally present in timber but which can dry out over time. Massaging a hardwax oil into the wood can help to protect it from damage and wear and tear too.
Easy to apply, Treatex Hardwax Oil Ultra provides a durable and attractive finish to your staircase. It's made using sustainable raw materials such as bees wax, carnauba wax, candilla wax, linseed oil, sunflower oil and jojoba oil, which each bring their own benefits.
---
How often should you re-apply hardwax oil to your stairs?
You should initially apply hardwax oil to your oak staircase before installation. This will protect and seal the wood from dirty footprints and marks before you start to use it on a regular basis. How often you should treat your stairs once installed depends on the level of usage. Once the initial two coats have been applied, Treatex Hardwax Oil Ultra will give many years of protection, providing the stairs are regularly cleaned and maintained. See How to protect your wooden stairs against daily use to find more information.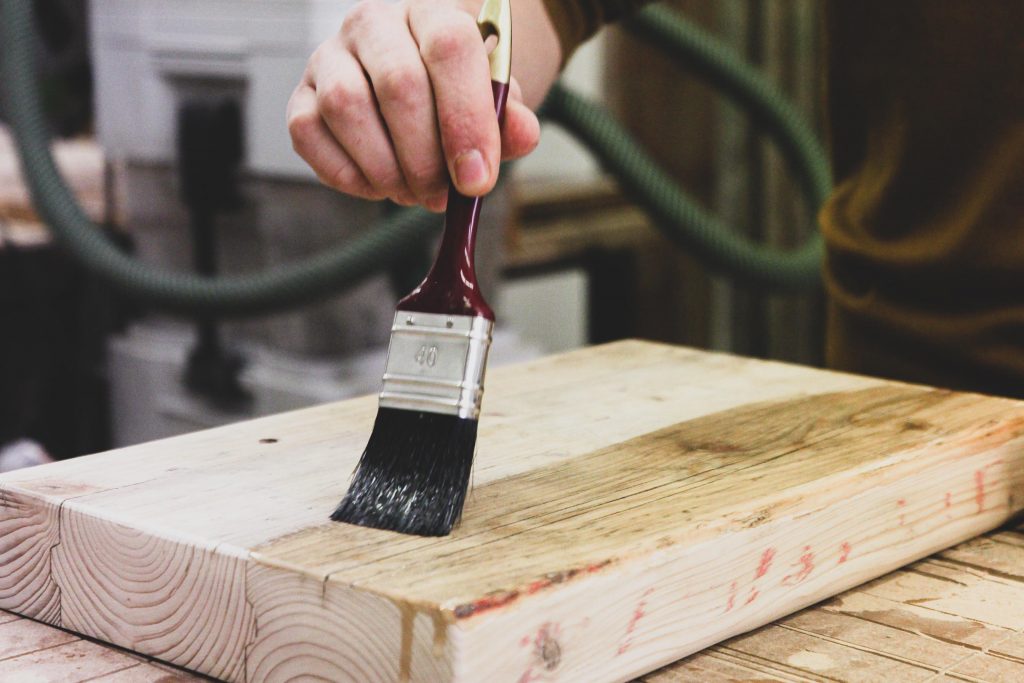 ---
Should your wooden staircase be sanded down before being treated?
To ensure your hardwax oil penetrates into the timber surface evenly and therefore leaves an even finish once dry, we recommend that all wooden surfaces are sanded to the same 240 grit. Once sanded, hoover off all dust and wipe the surfaces with a tack cloth before applying the hardwax oil.
---
What should you apply hardwax oil with?
We recommend using a good quality brush to apply hardwax oil to timber, this tends to be the method with the least mess, and usually means your hands remain clean. We have found the Treatex Brush to be very effective. Available in both 1-inch and 2-inch sizes, you can swap tools between larger surface areas and smaller, fiddly areas such as spindles.
---
What type of finish can be achieved with a hardwax oil?
Hardwax oil comes in a number of finishes. Treatex offer three types – Natural, Matt and Satin. Which option is the right one for you depends on your home, your style and possibly other items of wood furniture in your home that have previously been treated, if you want a similar effect.
Treatex's Hardwax Oil Ultra in Natural is designed specifically to help preserve the natural beauty and tone of light-coloured timbers such as oak and pine. This type of hardwax oil contains white pigments which, when applied as a first coat on lighter timbers, cancel the 'warming effect'. Please note, after applying Natural hardwax oil, a final coat of Treatex Hardwax Oil Ultra in Matt is required to give a durable finish.
Treatex's Hardwax Oil Ultra in Matt offers 21-25% sheen, perfect for those who are after a more natural wood effect. In comparison, their Hardwax Oil Ultra in Satin sits at around 40-55% sheen, maintaining a bright and glossy effect once it has soaked into the timber.
---
Will your stairs be a slip hazard once you've treated them with hardwax oil?
Treatex Hardwax Oil Ultra has a slip resistance of R10, which exceeds the general market standard. However, for certain situations such as the landings, treads or nosings of stairs, it may be a consideration to raise to slip resistance to R12 with the Treatex R12 Slip Resistance Additive. The additive is easily applied by mixing in with the topcoat of Treatex Hardwax Oil Ultra.
Where the R12 coating is added may need more attention in terms of cleaning, due to the increased resistance in these areas.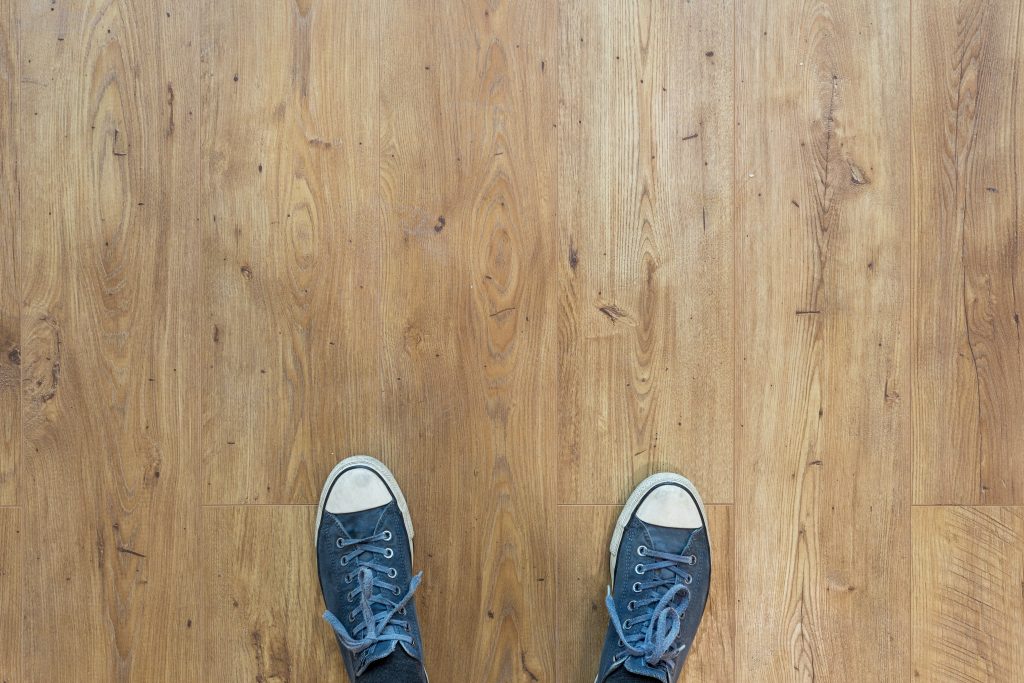 ---
How to keep your wooden staircase clean?
It is very important to keep wooden surfaces clean. Dust, dirt and grit should be regularly removed using a damp cloth, microfibre mop or a vacuum cleaner with a soft attachment. If allowed to build up, dust, dirt or grit can act like sandpaper, scratching and dulling your finish. If your surface looks dull, clean using Treatex's Spray On Floor & Surface Cleaner.
Spray On Floor & Surface Cleaner is a convenient ready diluted spray which is designed to quickly clean and maintain surfaces treated with Treatex Hardwax Oil. This PH neutral product contains vegetable oils and carnauba wax, which means that as your surface is cleaned, a thin replenishing and protective layer of wax is also applied. Simply spray the surface lightly with the cleaner and wipe with a cloth or mop.
---
Other top tips for keeping your staircase looking stunning:
Any objects that you wish to place on your stairs that may have abrasive bases (such as plant pots, stands) should be fitted with felt pads to avoid scratching the surface.
Mop up spills of water and other liquids as soon as possible. When using a mop, ensure that the mop is only slightly damp and never dripping with water.
Do not use bleach or aggressive cleaners on wood. Never use a steam cleaner on your surface.
Protect your stairs by using a good quality doormat to trap abrasive particles on the bottom of shoes at the door.
Regularly clean your wooden staircase to remove dust, dirt and grit.
Worn surfaces should be cleaned, prepared and renovated using the steps above to ensure longevity.
---
How to apply Treatex Hardwear Oil Ultra
With over 40 years of experience in the timber and wood finishing industries, Treatex's Hardwax Oil Ultra was developed to be user friendly, quick drying and easy to maintain, alongside providing a hardwearing and attractive finish. Watch a short demo on how to apply their hardwax oil here.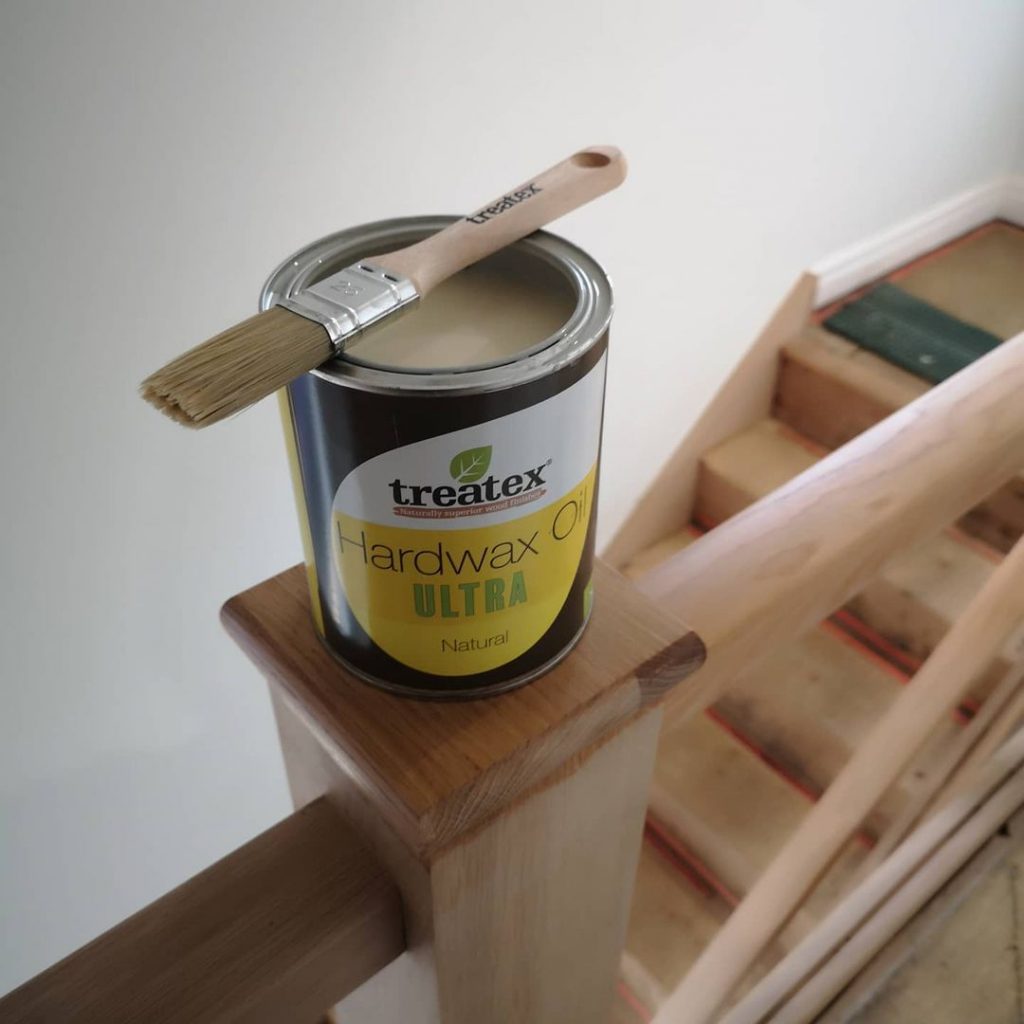 ---
More questions?
If you have any more questions about how best to treat your wooden staircase, do not hesitate to contact our customer service team on 01782 832 555 or hello@stairbox.com. You can also live chat with the Treatex time on their website: treatex.co.uk