After many months in development, we're pleased to reveal our new and improved StairBuilder staircase design tool.
Our original online stair designer program was the first of its kind, giving customers the ability to explore different staircase designs and get instant prices and 3D visuals without the need to contact us. Born from our desire to make the staircase ordering process as quick and easy as possible, the StairBuilder enabled our customers to spec, price and order their stairs within a few clicks.
The new version of this interactive tool offers additional features and increased functionality, making the design process easier than ever before to buy a staircase online.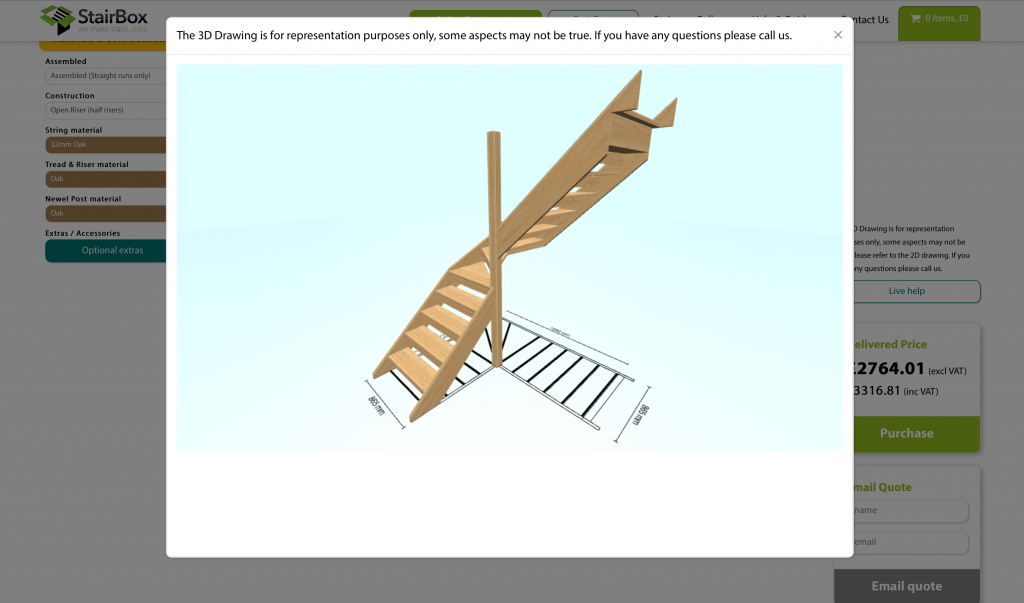 Features of the new StairBuilder tool
Specifically optimised for mobile use – especially handy for on-site scenarios
Capable of designing Open Plan staircases online with ease
Alerts you if a design falls outside of building regulations 
Shows a live 3D model as you create your design, which updates with each click
Interactive staircase drawing allows you to simply click areas of the staircase you'd like to add balustrade to, with options for all balustrade styles including oak and glass
Displays the most common optional extras you might need as part of your project for you to browse and select pre-checkout
Offers the option to add "plot references" to your designs
---
And if you do need help whilst using the online StairBuilder, the nifty Live Help tool means you can call our team and they'll be able to see the design you're working on and remotely assist you with it there and then. 
Head to the StairBuilder design tool to start creating your ideal staircase now.  In need of inspiration? Check out our gallery page or head over to Instagram to see what our customers have done with their stairs!