When it comes to home decor, we often pay attention to more obvious aspects such as furniture, wall colour and lighting. However, one area that should not be overlooked is the staircase. A well-designed staircase can add charm and elegance to any home. For many of us, the staircase is the first thing our guests see; but, wherever your stairs are in your home, you see them and use them every day, so it's worth considering their design and impact on your interior space.
Practical considerations
A benefit that all our stair carpet ideas bring to your home is comfort. Carpet underfoot is warm, inviting and can minimise the impact of heavy footsteps on the stairs - it may even contribute to reducing your energy bills.
Whilst you may have clear ideas on the desired colour and style of your stair carpet, it's equally important to consider the type of pile. The pile refers to how the fibres are attached to the backing material, typically through loops, tufts, or weaving. When it comes to stairs, a loop pile is recommended as it offers greater durability and resistance to tracking. Woven designs also maintain their visual appeal for a longer period of time, as they are less likely to become flattened over the years. However, it is worth noting that woven carpets tend to be more costly.
Opting to carpet stairs is particularly beneficial for households with young children or elderly family members. Unlike wooden stair treads, carpet provides a safer surface in the event of spills or when little ones decide to playfully run around. Whilst carpeted stairs may not entirely prevent falls, it certainly adds an extra layer of cushioning and grip, thereby reducing the risk of accidents and injuries.
Seamless spaces
Although stairs may feel like a distinct feature in a home, they play a crucial role in connecting two significant areas: the hallway and the landing. While the hallway serves as a public space where guests are welcomed, the landing represents a private zone where we initiate our bedtime routines. Unifying these spaces can pose a challenge, but selecting a carpet that effortlessly transitions from one area to another can make a world of difference.
Opting for the same pattern across both your stairs and hallway or landing floor is a great way to make the space look bigger. By creating a seamless flow through the floors of the house you create a style that feels very unified and well considered rather than thrown together.
Alternatively, if carpeting throughout simply isn't practical, select a carpet that uses the same tones as your hall or landing floor to get that same flowing effect - for example, a neutral-toned carpet to complement a whitewashed wood floor.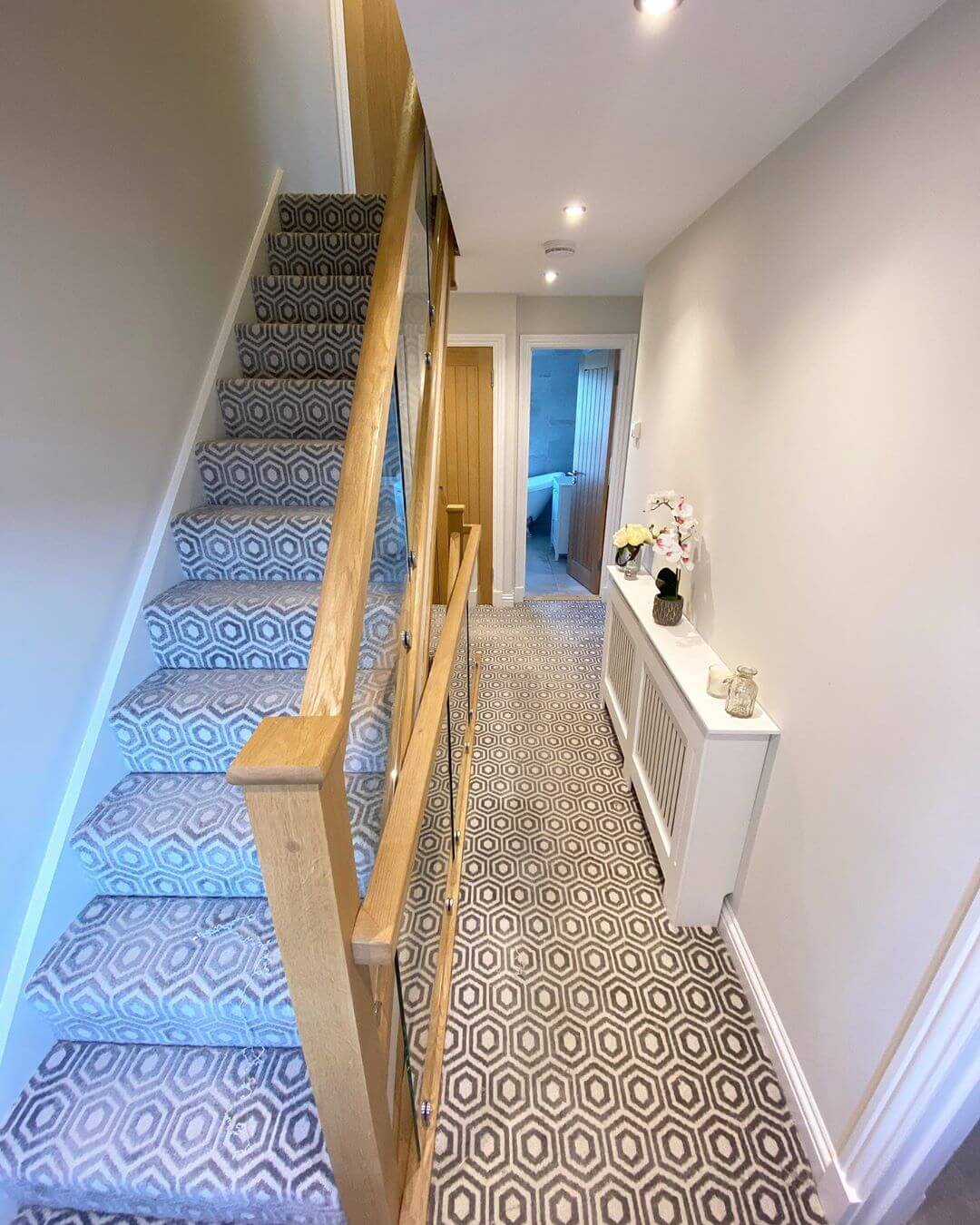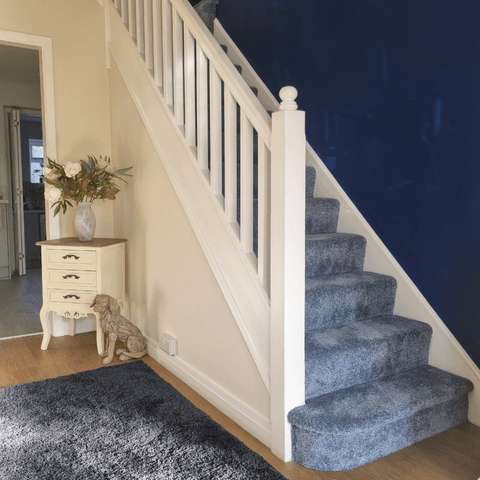 Go bold
When considering stair carpet ideas, staying neutral can sometimes feel like a safer choice, and can certainly create an elegant, timeless, calming space.
However, for those who prefer a statement, a bolder carpet choice can hit the right note. Rich blues and even black are popular choices to create a focal point and lasting impression, and of course, it's worth considering the durability of these darker colours that can hide spills and stains.
Pattern play
Incorporating striking geometric designs and vibrant colours into your staircase carpet can create an eye-catching feature and inject personality into your home. Choosing repeat patterns not only allows the carpet to seamlessly flow through areas of your home but also helps to conceal the inevitable marks and scuffs that come with regular use of the stairs over time.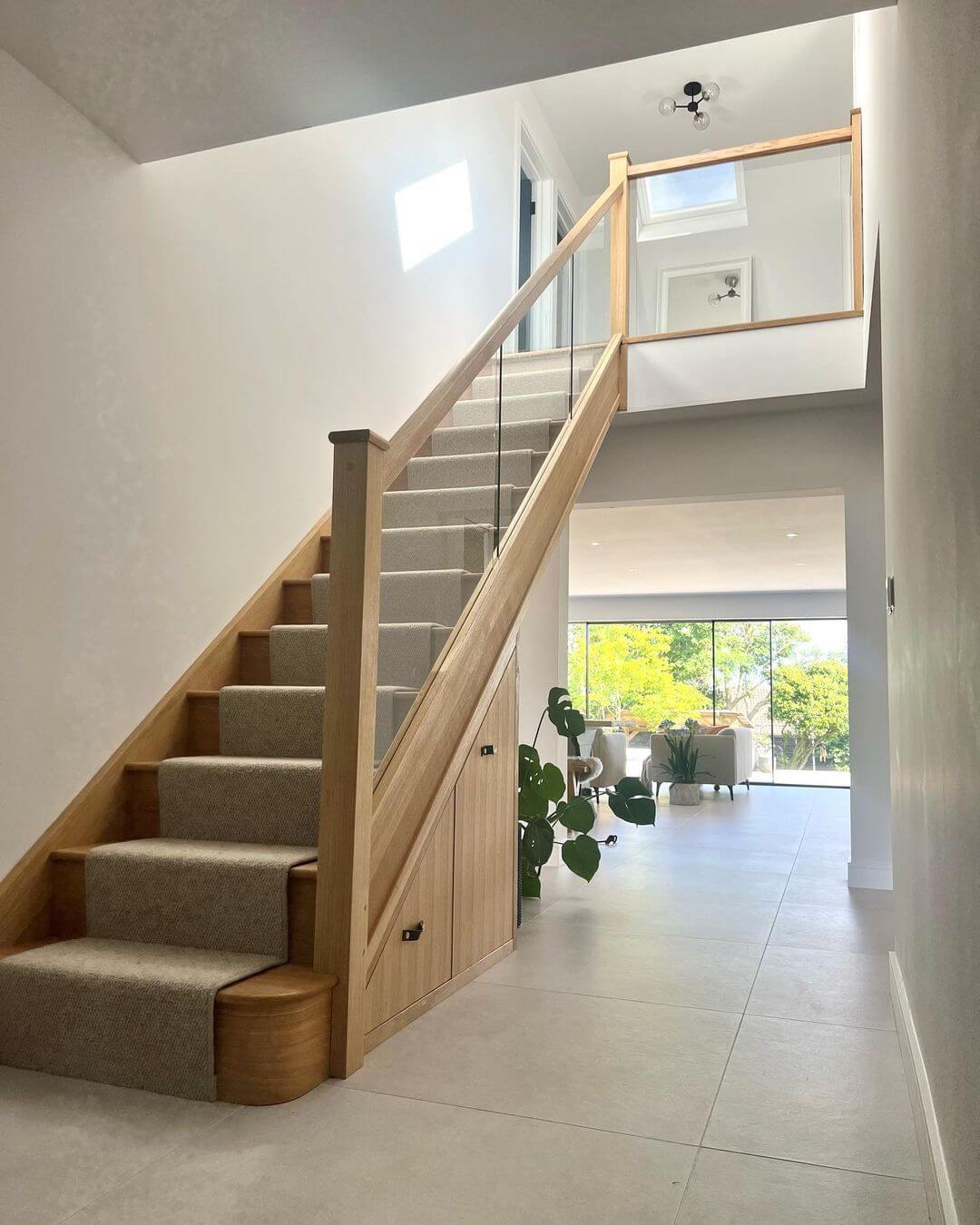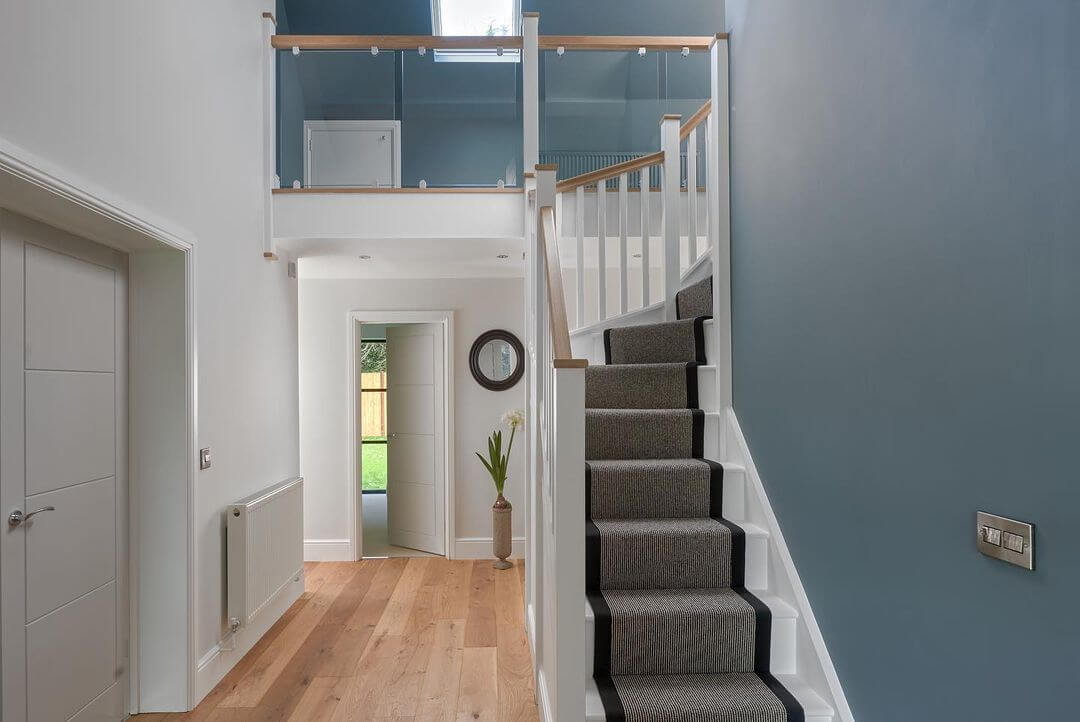 Sophisticated stair runners
Stair runners complement wooden staircases and can add elegance to a space. They provide the cosy comfort of carpet whilst still letting the timber stairs have their moment.
While this aesthetic has traditionally been associated with older homes, modern interiors are now embracing the functionality and contemporary designs that are readily available. Stair runners can be monochromatic, incorporate piping to introduce a sense of movement often absent in stairways, or even feature a splash of colour or pattern that would otherwise be too overpowering as a full carpet.
The finer details
Finishing a stair runner with stair rods not only keeps the runner in place but adds an extra visual layer and touch of finesse to the design. Rods can be purchased in various metals and styles to suit your home; they can be matched to staircase lighting ideas or door handles in the hallway and landing to create a continuous theme.
Another way of adding detail to your carpeted stairs is by keeping the bottom step or two as oak feature steps, which creates a beautiful contrast between the plush carpet and timber and oozes quality.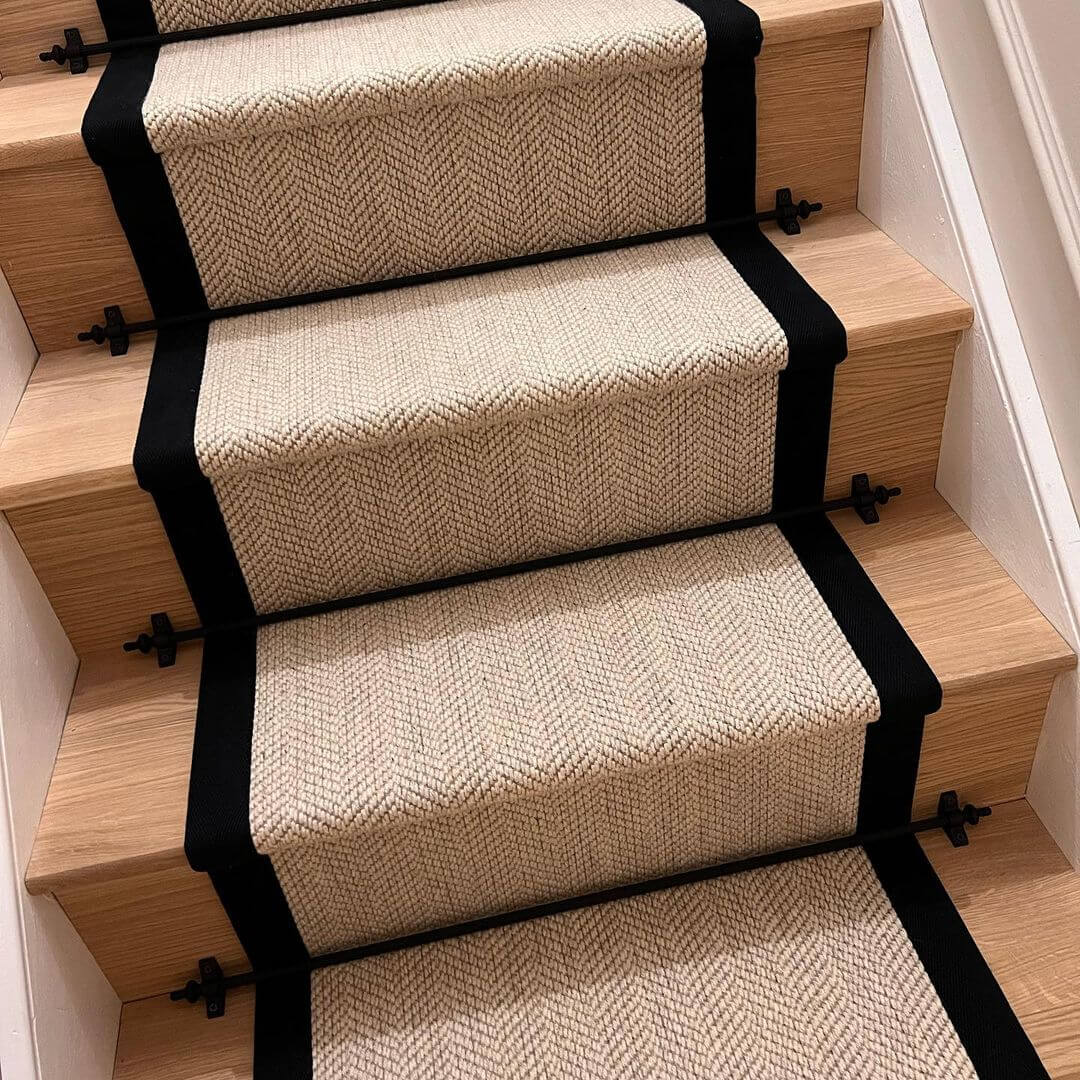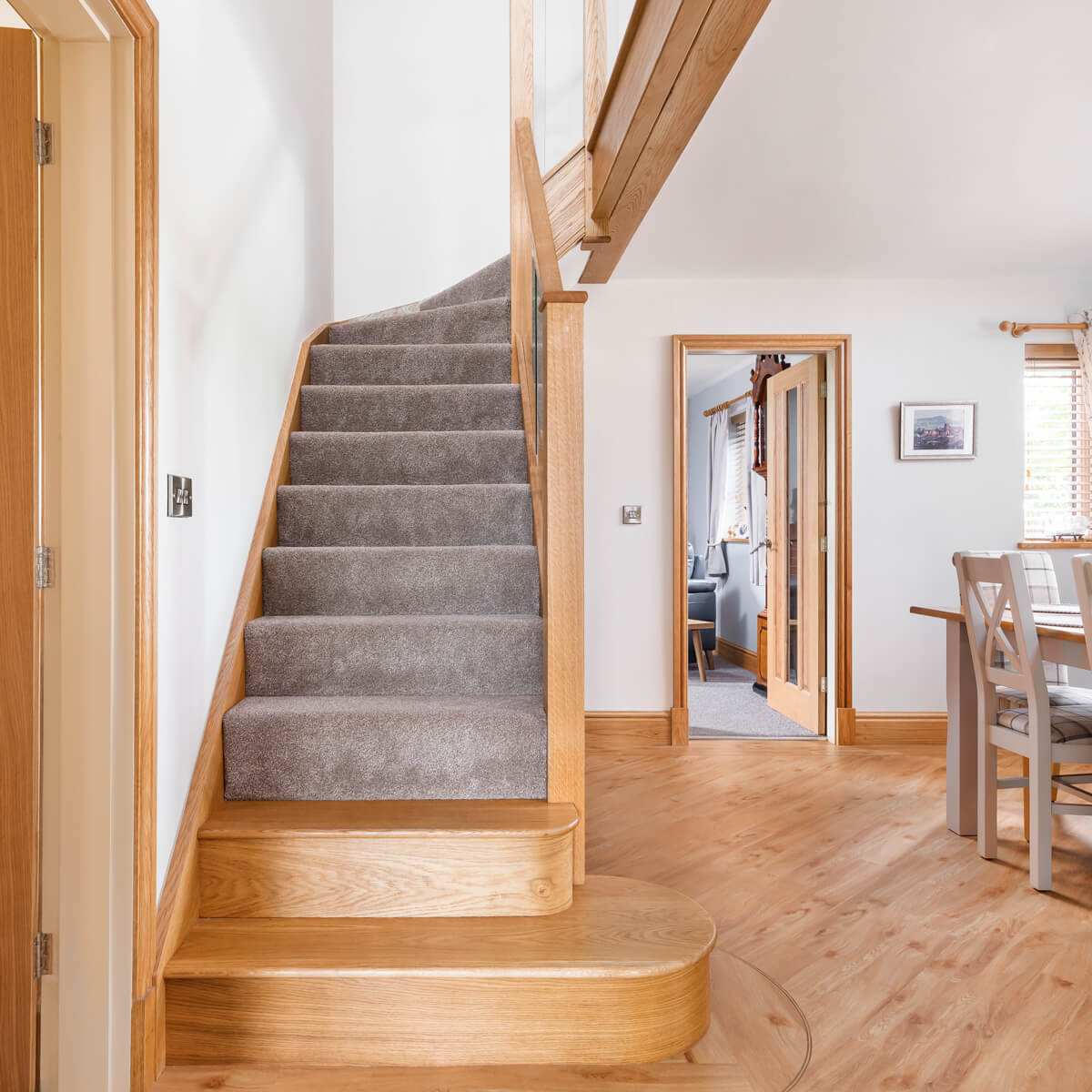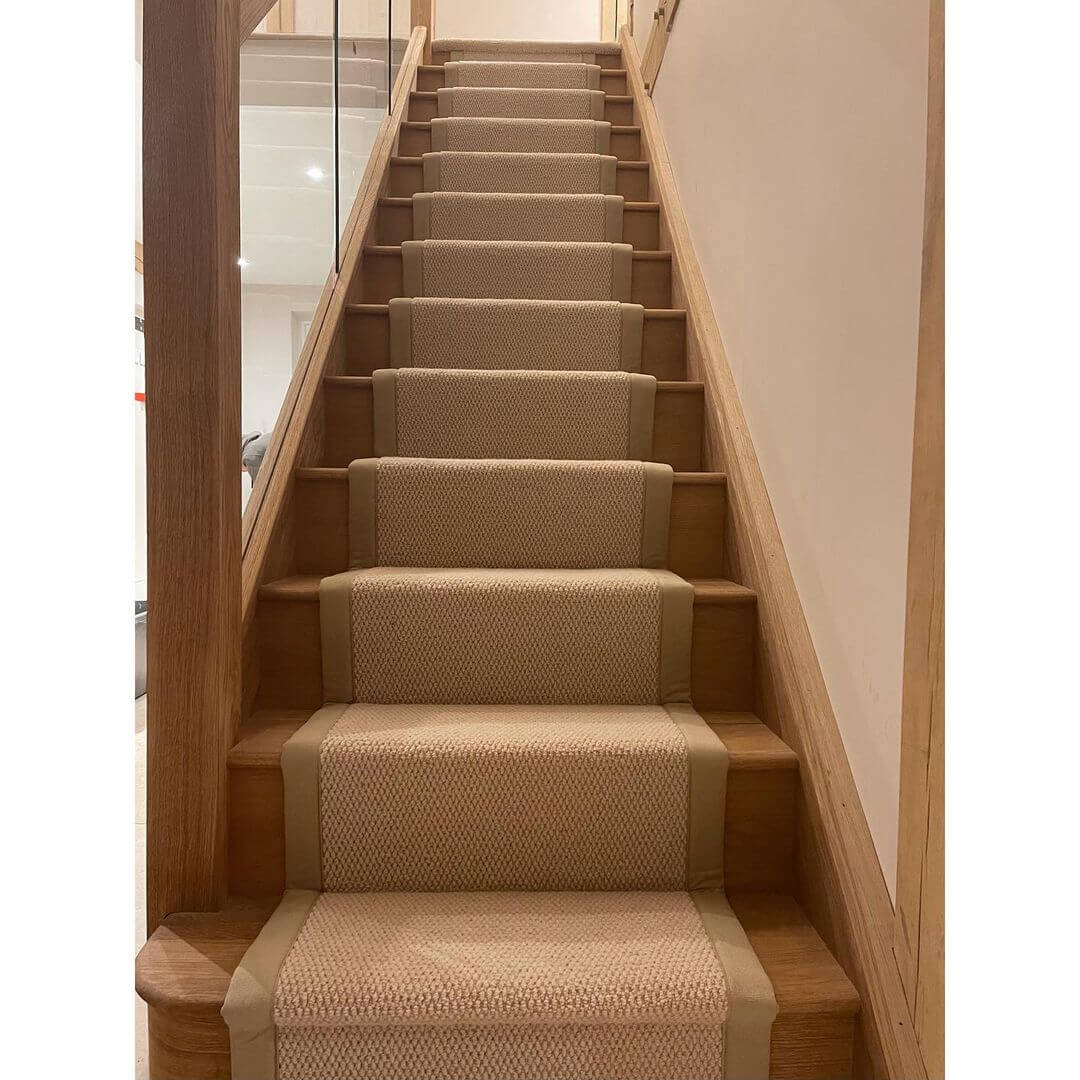 Textured touch
Carpets made from materials like wool are the most common choice for stairs because of their durable nature but comforting feel. However, if you're looking for a more natural theme for your home, why not opt for stair carpet ideas that use plant fibres such as sisal, coir or seagrass to introduce a textural contrast to smooth surfaces. These materials often create a more informal, relaxed feel than that of a wool carpet.
StairBox have a range of other staircase ideas to inspire.
Creative stair carpet ideas can transform not only the staircase itself but the spaces the stairs connect. Whether you prefer classic elegance, a bold statement, texture and pattern or an understated runner, there are endless possibilities to choose from.