Staircases come in many shapes and forms, something we know all too well here at StairBox. When you're looking to replace or renovate your own staircase, in order to whittle down the many options available to you, you may want to identify what your signature style is when it comes to your home interior. Are you a traditionalist or do you lust after the latest in design trends? Carry on reading to find out which of our staircases would complement your home style…
---
Country Traditional
In a period property, it can be important to retain the feeling of the age of the building – sometimes sticking with a classic design that has stood the test of time can be the best option for your staircase. Whether completing a full replacement or refreshing the look with a part renovation, our Edwardian turned spindles are a great solution for maintaining a traditional aesthetic. Matched with our turned newel posts and Cheshire Pattern hand and base rail, this classic design of balustrade will complement any period home or country property. Available in oak or pine, both materials lend themselves to a slightly different finished look. An oak staircase has the biggest impact when treated with oil, allowing the natural character of the timber to truly shine. Opt for pine and you can finish by hand painting with a chalk paint, such as Farrow & Ball, in a period colour to make your stairs a real feature.
Classic Contemporary
If the style of your home can be described as a classic approach with a contemporary twist, this staircase could be the right solution for you. Completed in solid oak, this staircase design will stand the test of time. At first glance, there seems nothing out of the ordinary for this feature flight, but a second look reveals the detail of the Square Twist Spindles that have been used throughout – a style that seamlessly marries traditional and contemporary detail in one simple turn. If the twist detail is a step too far, you could choose a modern Square Spindle to keep the look clean, or a Stop Chamfered style which adds a subtle detail to the space and catches the sunlight throughout the day. See more information about this particular staircase project here.
Tiny Homes
Mezzanines, loft extensions, cellar conversions and other nifty spaces used to create extra room in your home need to be accessible without losing too much surface area. This is where our SpaceSaver staircases come into their own. Designed to take up as little room as possible, this style of staircase can be a gamechanger when it comes to accessing areas of your home that you thought were previously off limits, or only reachable by ladder! The SpaceSaver comes with its own set of rules and regulations, so can't be used as a replacement for a normal staircase. Find more information here or build your own using our Loft Stairs Designer.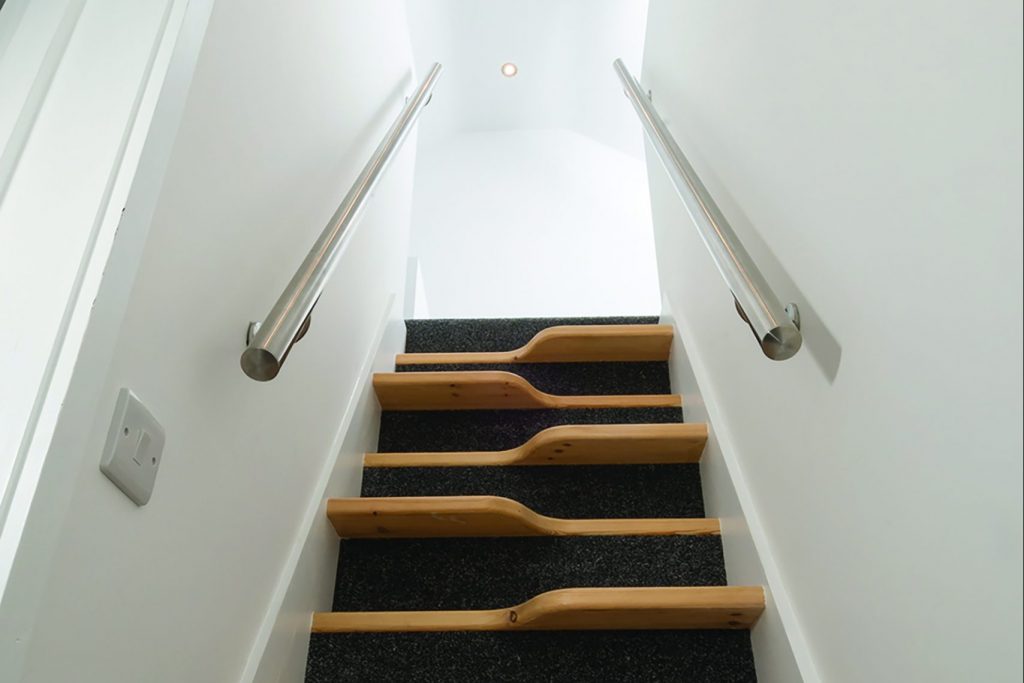 Maximalist
A grand hallway calls for a grand set of stairs, and this set up is no exception. Crafted from oak in a large T-shape, this staircase seems relatively traditional, but it features several contemporary design features and quirky additions. The bottom flight of stairs have closed risers, but the upper flights going off to the left and right are finished with open risers which, when combined with the chrome-clamped glass balustrades, allows the light to flow through the staircase and into the hallway. The base of the flight is finished with a flourish, with the inclusion of a rare dancing step in addition to the curtail and bullnose steps. This helps the staircase feel more open towards the bottom, inviting people in the hallway to approach from all angles. These extra bespoke details take this king-size staircase from just big to luxuriously grand.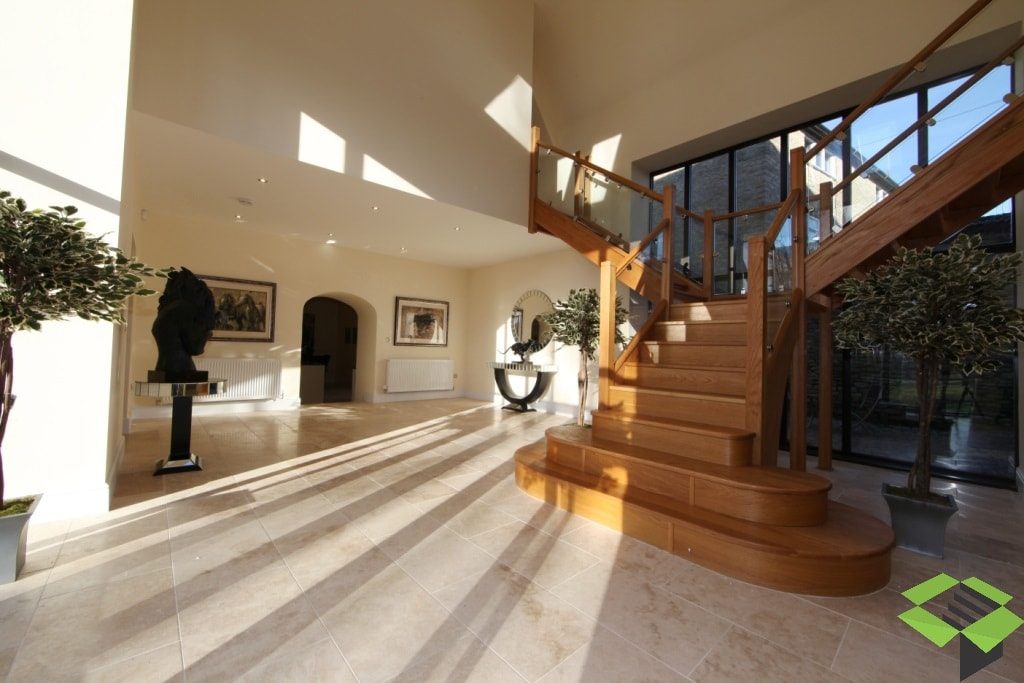 A Flash of Metal
For those who like a flash of metallic detail to elevate their interiors, an open plan flight of stairs with chrome riser bars could be the style staple you've been missing. A pop of silver between each step not only creates intrigue as you travel skyward, but can easily tie your staircase in with your interior design styling. Matched with glass balustrades and chrome clamps, this subtle but stylish design detail will make your staircase the centrepiece of your home, with added glam. Metallics not your bag? You can still maintain a light and bright hallway space without the flashy details – choose to have your glass balustrade embedded into the base and handrail instead of the clamp detail, and leave the riser bars off the design.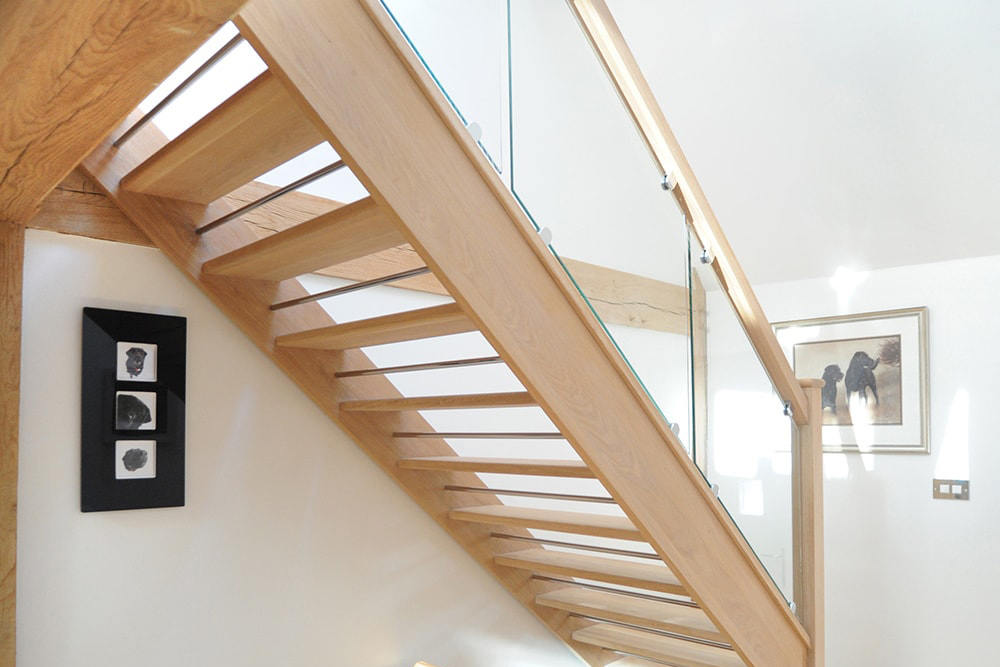 ---
As all of our staircases are made to order, you can choose exactly which combination of features you desire. If you're struggling to decide which staircase design will work best in your home, please do get in touch with our award-winning customer service team who'll offer you friendly and knowledgeable advice and have you on the right path (or stairs!) in no time.